Rihanna has never hidden her fondness for smoking marijuana, so she was well-prepared for April 20 this year. The singer joined millions around the world to celebrate 420 – the day adopted by weed-smokers to share their love for all things green.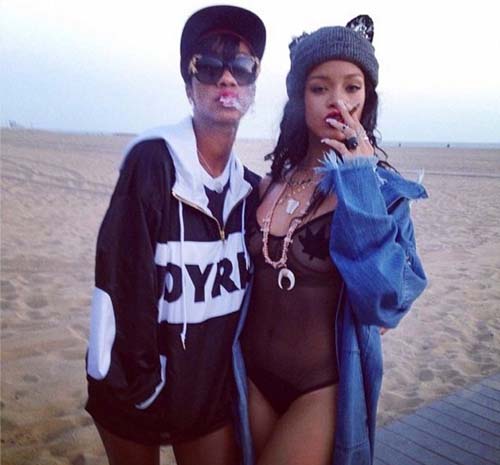 Rihanna had sorted out her ensemble before getting stuck into the fun, and made sure it was appropriately themed. She sported a black mesh bodysuit which left very little to the imagination and boasted marijuana leaf motifs covering her nipples. The 26-year-old was also sporting an unbuttoned denim shirt, black Converse trainers, and a grey beanie with lace cat ears sticking out the top. If that wasn't enough, Rihanna was wearing gold marijuana leaf earrings, and green framed sunglasses.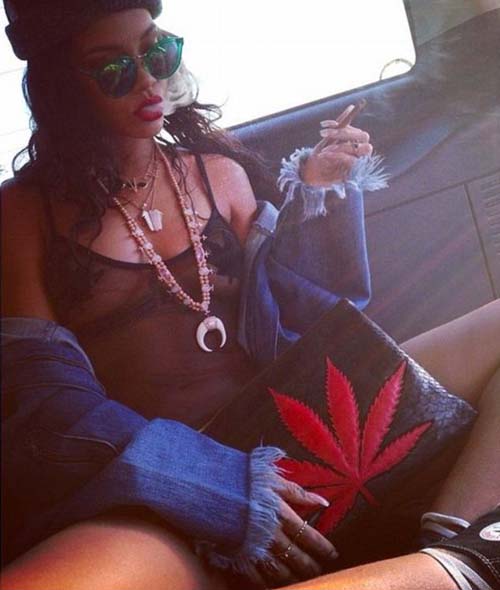 The star shared several photos of herself, including one in which she was giggling on a beach with her friend Melissa, along with the caption: 'I'll be here every 420.' Her friend took it a step further by posting pictures of herself and Rihanna appearing to smoke weed out of their boot while watching the sunset. Rihanna had posted a picture of her in a bunny outfit from a fashion shoot earlier that day as she marked the fact the holiday fell on Easter Sunday, as well as a cartoon of a rabbit enjoying a marijuana cigarette.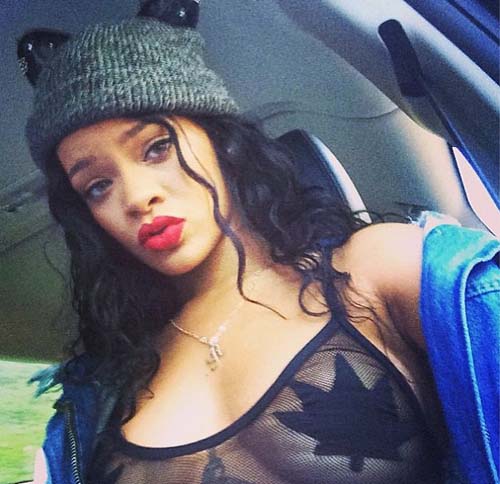 Snoop Dogg, Miley Cyrus, Seth Rogen and James Franco also spread their own 420 cheer, with Snoop dressed as a bunny rabbit and carrying a basket of weed. 'Happy 420/ Easter! I'll be where I've been the passed week. In bed. Crying. NOT stoned. WackkkkMiley wrote. Seth and James – who starred in the pot-smoking comedy Pineapple Express – also shared some 420 messages. Franco posted a photo of his drug-dealing character Saul, from the movie, while Rogen shared a video of how to roll his famous cross joint with the message: 'Happy Easter and 4/20. In honor of both, here's my video of how to roll a cross joint'.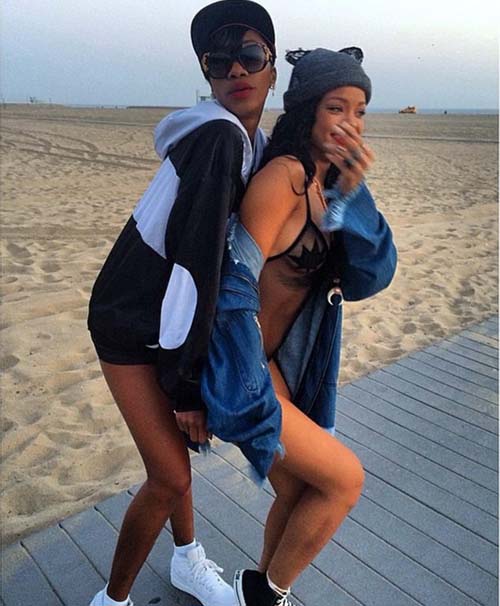 Actor Jason Mewes, most famous for playing drug-dealing Jay in Kevin Smith's Clerks, Dogma and Jay And Silent Bob Strikes Back, wrote: 'Happy Easter and that 420 for all youse who 420 and get your Easter on 😉 !!!! Summertime Rolls!' American Horror Story star Gabourey Sidibe also joined in the well-wishing with a religious edge: 'Happy Easter! And Happy 420! I'm not here to judge you, but Jesus is. dowhatyoudo'. If green is your thing, happy420!', wrote Willie Nelson, while Kings Of Leon's Nathan Followill simply posted 'Hoppy 420.' Patrick Schwarzenegger – son of action movie legend Arnold – also hinted he had been partaking in smoking weed. He wrote on twitter: 'Blazing and praizing. What a glorious day for Easter. Sooooooo. I don't think I can participate in the egg hunt. -Dailymail