There are few celebrity friendships quite as sweet as the one between Selena Gomez and Taylor Swift — even if the pop stars did play bitter frenemies in the latter's video for "Bad Blood." Now, thanks to a cryptic tweet, some fans believe that a musical collab between the BFFs is in the works. Swift's upcoming album, Reputation, drops on Friday, but already fans have a lot of theories about it. 
[contentblock id=1 img=adsense.png]
When they aren't analyzing which of Swift's former boyfriends is referenced on her already-released singles, fans are considering which celebs might play a role. Blake Lively's baby is already a contender for the speaking part of "Gorgeous," but could Gomez share a song with Swift as well?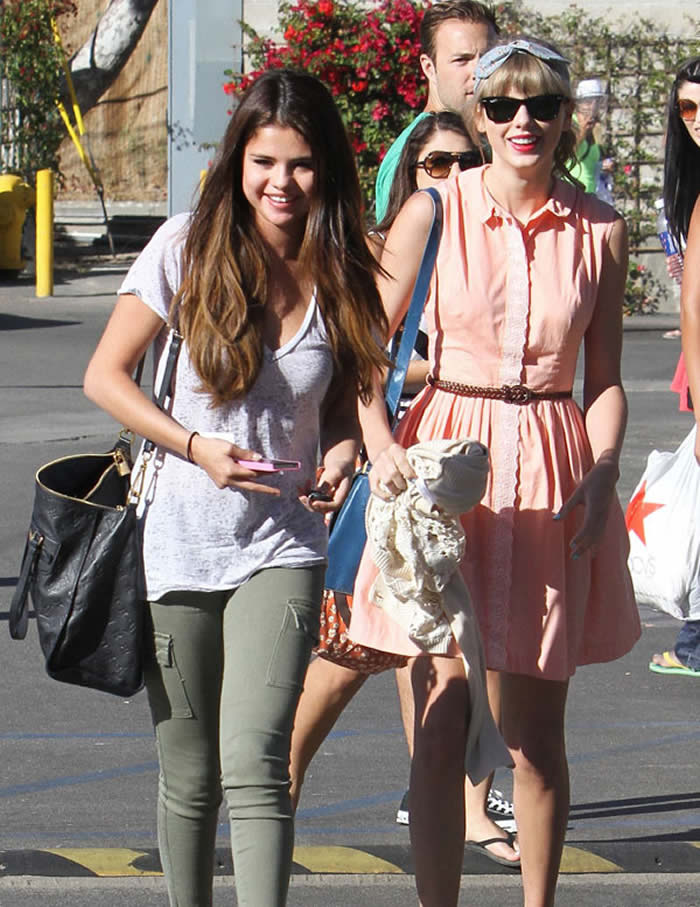 Here's why people think so. Per Glamour, president and CEO of Swift's label Big Machine Records, Scott Borchetta, tweeted a Target commercial featuring behind-the-scenes footage of Swift prepping for Reputation's release. Naturally, Borchetta tagged Swift in the tweet — but he also added her pal Gomez, despite the "Kill 'Em With Kindness" singer not appearing in the video.
[contentblock id=2 img=adsense.png]
This is so good… @taylorswift13 https://t.co/tm2Y6s10rc @BigMachine @selenagomez

— Scott Borchetta (@scottborchetta) November 5, 2017
The internet promptly lost it.
OMG IT'S HAPPENING pic.twitter.com/N6w1moNSqX

— WOLVES ? (@riverjapril) November 5, 2017
selena?? what did you hiding from us scott? pic.twitter.com/rpEJYGGqoc

— dare (@fIowersnhes) November 5, 2017
Selena collab confirmed???? Hsjskaks pic.twitter.com/Lh4ZuFyKMQ

— Sanjana (@Swiftie11taylor) November 5, 2017
OMG FEAT SAYLOR IS REAL pic.twitter.com/qoJBIsx4Kk

— lucαs. (@selwesz) November 5, 2017
[contentblock id=3 img=gcb.png]
Not to burst Swifties/Selenators bubbles, but there is one possibility for why Borchetta tagged Gomez that might not have to do with any potential collaboration. At the 0:23 mark, you can see a brunette woman sitting with Swift. It's not the former Wizards of Waverly Place star, but it's not insane to think that someone who watched the video only once might assume it was her. Perhaps it was just an error on Borchetta's part? Of course, the hopeful part of my heart wants Borchetta to have just teased an epic song between these two artists. So far, neither have stated whether there is a secret song in the works — but if there is? It's one surprise fans will be here for.