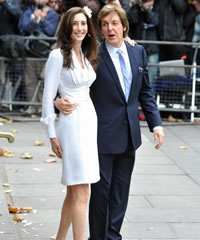 Yes folks, Paul McCartney, 69 and Nancy Shevell, 51 got married finally. The couple said "I Do" in London and showered kisses to their fans and paparazzi.
The Beatles legend Paul McCartney and New York businesswoman Nancy Shevell had been dating since 2007 and announced their engagement this year in May. The previous day, they tied the knot at the Old Marylebone Town Hall and legally became husband and wife. It was a 45-minute civil marriage ceremony.
Nancy Shevell was wearing a spectacular ivory dress and shoes designed by her stepdaughter, fashion designer Stella McCartney who also designed navy blue suit for her father Paul McCartney.
While leaving the Town Hall, guests showered rose petals at the newlywed couple Paul McCartney and Nancy Shevell.