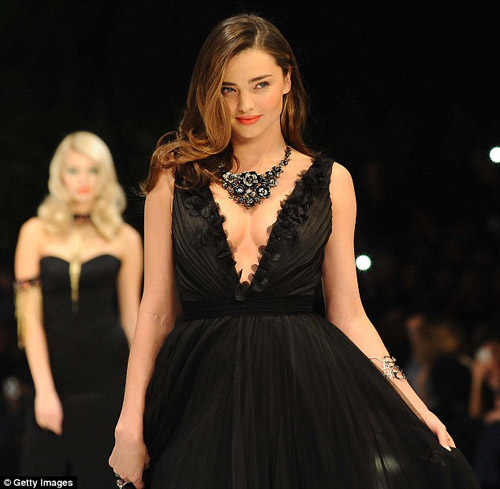 She has been busy playing doting mother to her three-year-old son Flynn over the last few weeks during the Christmas holiday period.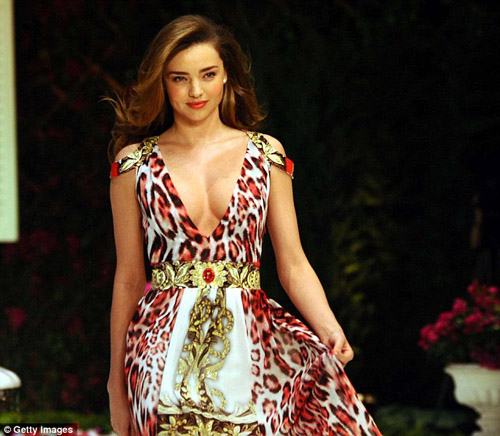 But on Thursday, Miranda Kerr was right back to her day job of international supermodel. The 30-year-old has travelled to Turkey, and was seen strutting the catwalk for Italian fashion label Dosso Dossi at the Expo Center in Antalya. During the show, the Australian star wore a stunning elaborate diamond and pearl necklace, reportedly worth $3 million.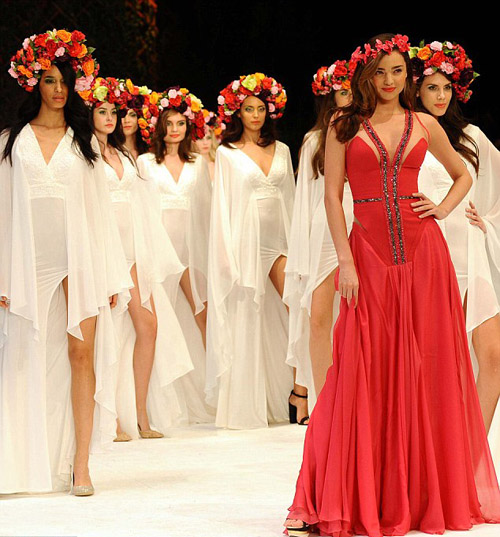 However, all eyes weren't on the jewels sitting around Miranda Kerr neck. Instead it was hard not to notice her incredible figure in the array of plunging dresses she sauntered down the catwalk in. The brunette beauty did her best turn, pose and pout in a chic black gown featuring frilled detailing at the bust and a billowing skirt that created a dramatic effect on the runway. Miranda Kerr also took a walk on the wild side in another very low-cut gown, this time in bold animal print.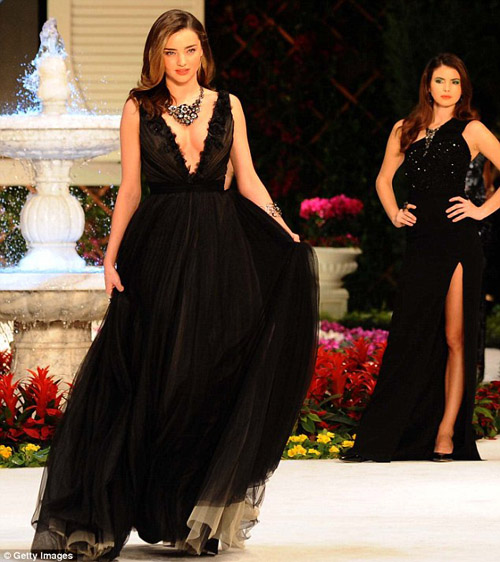 But it was her red embellished gown that really stole the show, with the Aussie beauty looking simply stunning in scarlet as she was joined up by an army of models all wearing white kimonos and floral headpieces. As she arrived for the show, Miranda Kerr was flanked by several men including two bodyguards and the designer, who looked thrilled to have the former Victoria's Secret Angel as part of his show.
The stunning star went for a demure look wearing a pale pink silk dress accessorised with a red leather handbag and a pair of diamond stud earrings. Not seen with Miranda Kerr on this occassion was her son Flynn, who stayed behind in New York with his father, Orlando Bloom. The little boy, who just turned three-years-old on Monday, was seen out and about with his father on Wednesday.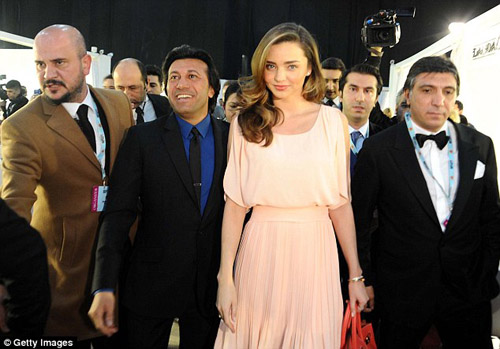 Miranda Kerr and Orlando have been sharing parental duty of their son since their separation last year. On Monday for Flynn's birthday, Miranda posted a photo of a cream-coloured cake with the message 'Happy birthday Flynn' iced on it, complete with three candles.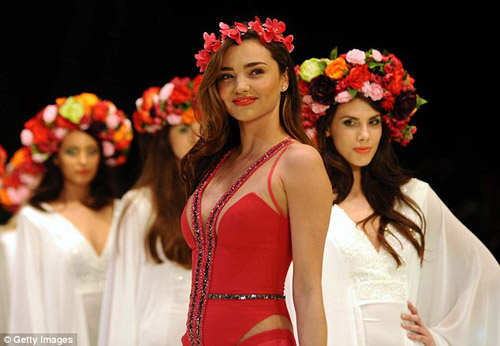 The mother-son day was no doubt spent spoiling her pride and joy with plenty of gifts, love and his favourite organic, gluten-free cake. Miranda Kerr had been spending the festive winter season in New York to keep Flynn close to his father, who is starring on the Broadway play Romeo & Juliet. She recently explained to Harper's Bazaar Australia: 'I'm not coming home to Australia for summer because Orlando is working six days a week starring in Romeo & Juliet on Broadway. '
And it's not fair to take Flynn and go without him. We're trying to do our best to support each other.' Orlando underlined that statement at the December 2 premiere of The Hobbit: The Desolation Of Smaug, telling E! News: 'We're a family and we'll always love each other and we're going to be in each other's lives.' It was announced on October 24 that the couple had separated after three years of marriage.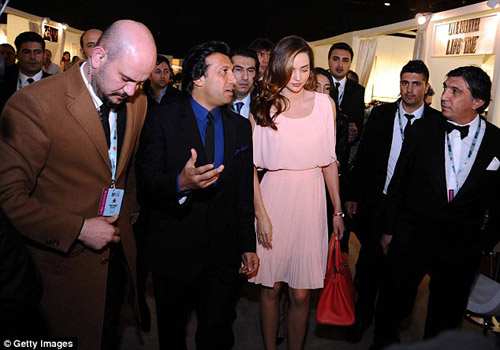 Despite the change in her holiday travel arrangements, Miranda Kerr still managed to celebrate the start of 2014 in style. The model and her family treated themselves to an adventure by hopping on board a helicopter for a ride above New York's amazing skyscrapers. -Dailymail