Work hard, play hard must be the philosophy Miley Cyrus is living by, at the moment. The 21-year-old singer has been spotted partying hard in Cameo nightclub, Miami, after performing to thousands of screaming fans at the American Airlines arena.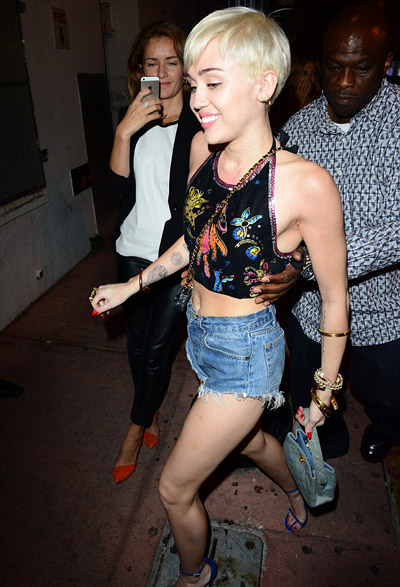 Wearing teeny tiny denim cut off shorts, the star laughed and smiled as she was ushered into the nightclub with her friends on Saturday evening. She carried a Chanel quilted handbag in one hand and outstretched the other so she didn't topple over, while being rushed through the crowds by a big bodyguard. Miley Cyrus showed off her ever-shrinking figure in a cropped top embellished with bright colours and beads and high-waisted hot pants.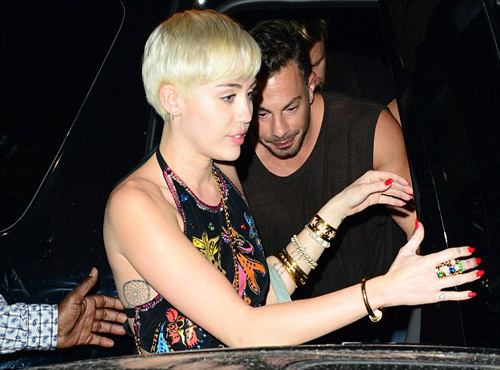 Elongating her already long legs, the star wore 1990s style stilettos with an ankle strap; the style is very on-trend currently with A-listers like Kim Kardashian wearing a similar pair. But while Miley Cyrus was out partying after her show, one fan was in an ambulance being rushed to hospital. A brunette fan was seen on a stretcher being lifted into an ambulance by several members of the Miami ambulance service.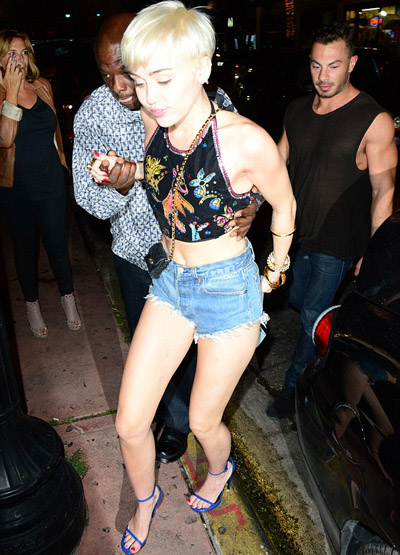 Hooked up to a drip, a member of the fire service was also seen helping the young fan stay on the stretcher while they examine her. It would seem 21-year-old Miley Cyrus wasn't aware of the incident after her show, as she was seen rushing off after the performance to party with her friends. She took to Twitter to say: 'miaminights with amazonashley67 lovemoneyparty.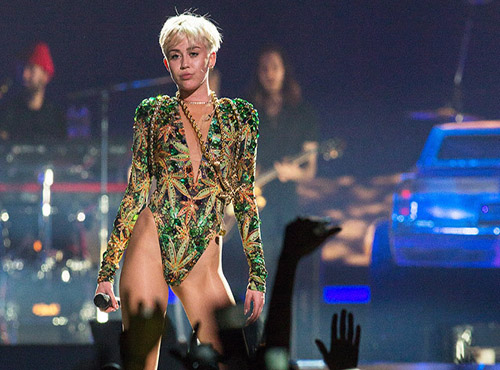 Posing provocatively with her friend, the star seemed not to have a care in the world as she celebrated her tour with a cake that reportedly cost $5000. The Bangerz cake was spotted in the boot of her friend's car before they drove off and sported all the images Miley Cyrus used on her tour so far – including the crying cat she's had tattooed on her inner lip. -Dailymail