Miley Cyrus was well and truly back on lewd form, Tuesday night, as she played her opening night at The O2 arena. The singer, who recently recovered from illness, took to the stage in a revealing dollar-print leotard and according to fans began making sexual gestures in 10 minutes of her set beginning.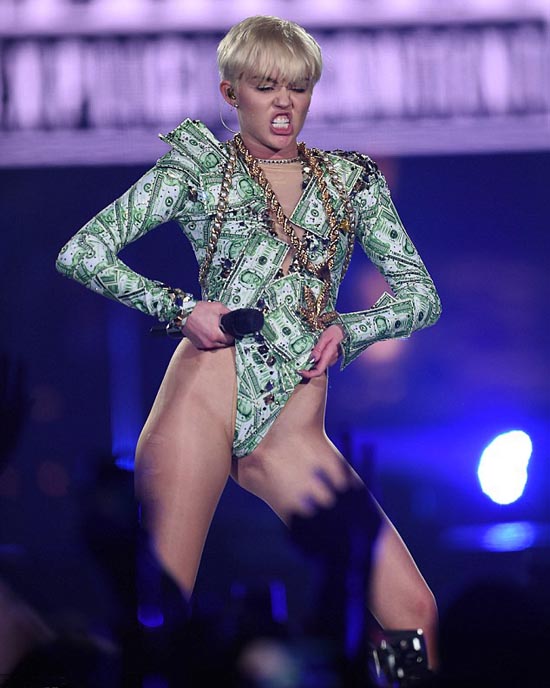 She was certainly making this London show a banger for all those in attendance at the sold out arena. A source told Mail Online that Miley Cyrus was: 'drinking water and spitting it on the crowd' and asking people to make out with members of the same sex. 'She got loads of same sex people to snog in the audience and put them on camera on a giant screen and make a speech about how we should all just 'be ourselves,' the attendee said.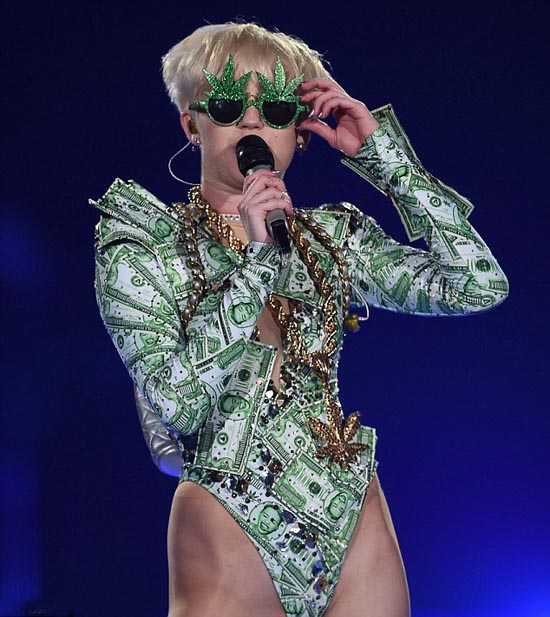 'She said she "hopes we are all drunk and on loads of pills", and at one point her dressers had to come on stage as her corset was undone while humping midgets.' Miley Cyrus also said that she had further injured herself while ill because of her obsessive compulsive disorder."she said she has OCD and sprained her ankle while cleaning during her recovery from her recent illness', the source added. As she pranced around in her marijuana gear, Miley Cyrus also championed the drug to the audience.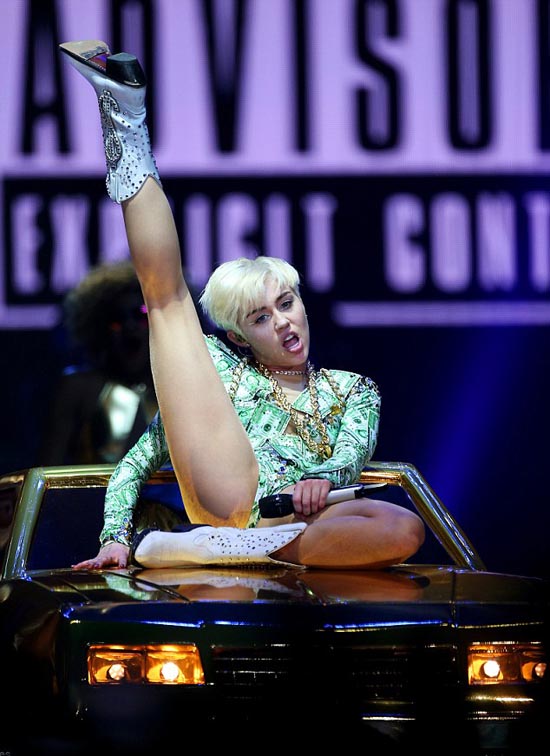 "Weed has never killed anybody, you know that right?" Teenyboppers: "WOOOOOOO!!!" mileyattheO2′. While others didn't stick around to see the rest of the show, as @Essex_Girlie tweeted: 'One of my old work friends has walked out of the Miley Cyrus show at O2 cos she was being vile and disgusting….no shock there then (sic)'. However, the majority of guests had an amazing night, with @LMirren tweeting: 'Ok so Miley Cyrus was AMAZING we were some of the oldest people in the O2 but we don't care!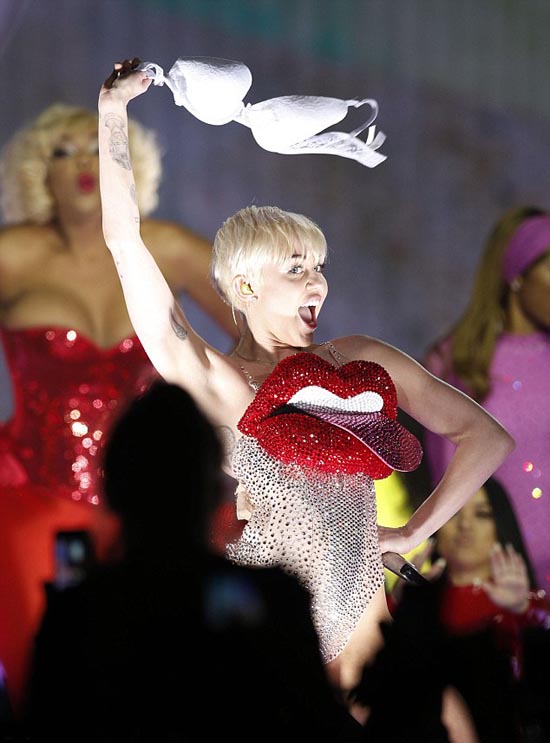 Meet and greet was fun she is very sweet!' Also making a rather long journey to see Miley Cyrus play in London was Lily Allen, who seemed to have got a motorcycle ride from Heathrow airport to The O2 as soon as she landed from New York. After the show, Lily tweeted: 'That was basically the best thing I've ever seen BangerzTour Miley Cyrus. Designer Henry Holland was also in the crowd and shared some 'epic' pictures. Many a performer has taken the London Underground to get to their shows at The O2 Arena, but Miley Cyrus opted for a more rocking way to travel.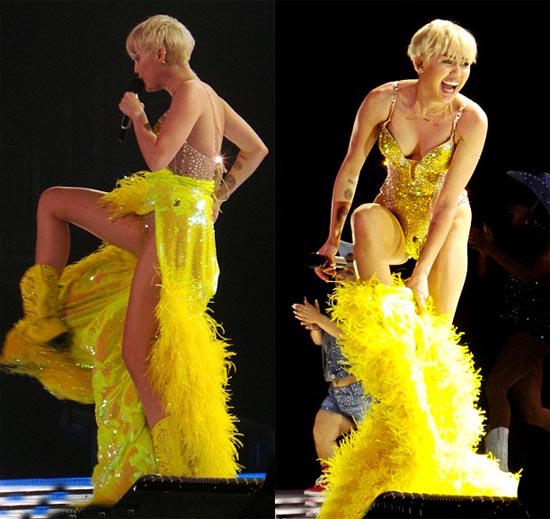 The singer and her entourage got all aboard a boat to take them to the music venue, ahead of her first concert in the capital as part of her Bangerz tour. Miley Cyrus looked happy and healthy as she made her way down the docks in red leather trousers and matching sunglasses. She wrapped up in a green khaki coat, and carried a camouflage tote back with a black and white rucksack on his back. She was forced to postpone the beginning of her European Bangerz tour after being hospitalised for an allergic reaction to antibiotics. Miley was hospitalised on April 15 after suffering a severe allergic reaction to Cephalexin, an antibiotic prescribed for the flu.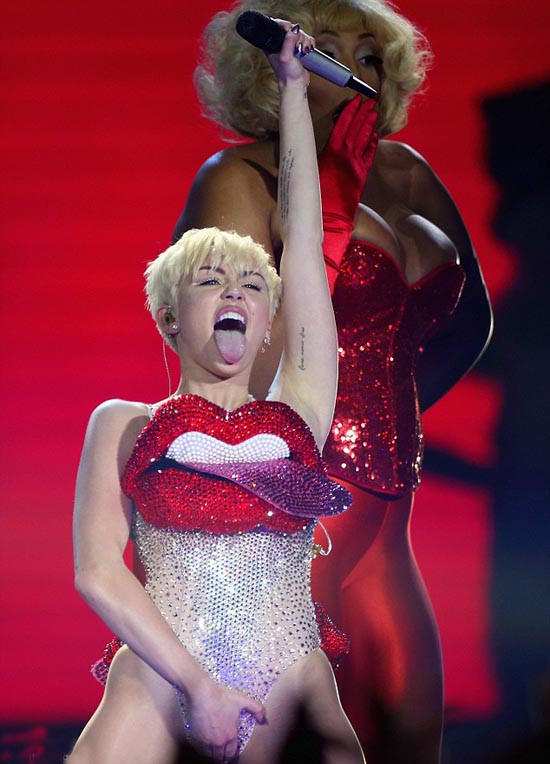 At a press conference the singer was forced to defend herself over drug overdose allegations Speaking in London on Tuesday, Miley Cyrus stated: 'I didn't have a drug overdose. I took some antibiotics that a doctor gave me for a sinus infection and I had a reaction.' Because of the severity of her condition, the pop star was forced to reschedule a number of Bangerz world tour dates, but is finally ready to get back on stage. Miley rescheduled the final six dates of the US leg of her tour, and the first two dates of the European leg after her doctors advised her not to travel.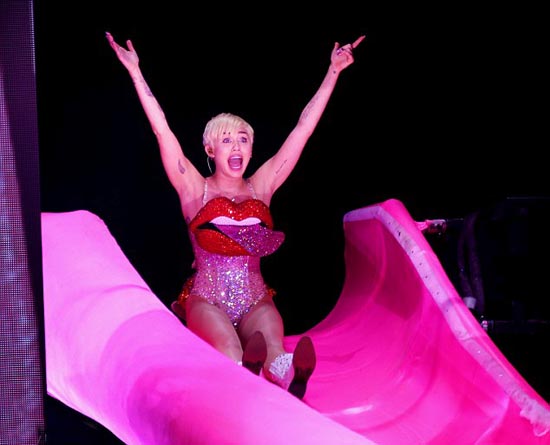 She admitted during the week that her health issues had frightened her, saying: 'I was on this medicine for five days and everything was all good and on the sixth day, Miley Cyrus just woke up, it was so scary.' The songstress added: 'I had basically been poisoning myself with something I didn't know I was really scary allergic to. I couldn't breathe and my skin – everything – was going insane.' -dailymail