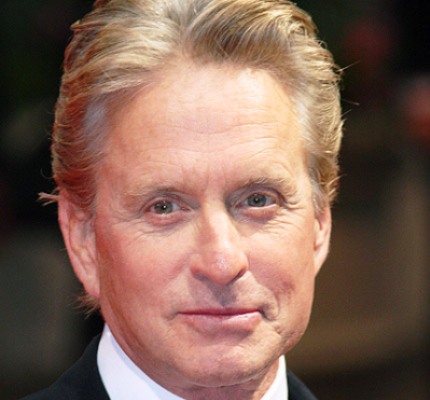 Michael Douglas is "very hopeful" he and his wife Catherine Zeta-Jones can work through their marital problems.
Michael Douglas believes he and his wife Catherine Zeta-Jones will be able to solve their marital problems and become a stronger couple.
The pair announced in August they were taking a "break" from each other after 13 years of marriage but following an appearance on The Tonight Show with Jay Leno he feels his marriage is far from over. Michael was quizzed show he admitted he is confident he and Catherine, 44, will be OK.
In reply to Leno's question, Michael said: "Good, I hope. I've been away for a while, but everything should hopefully be on the up and up.
"Sometimes people take a little bit of a break, but [it] doesn't necessarily mean that's the end. So, I'm very hopeful."
Michael also said the couple's two children, Dylan, 13, and Carys, 10, are "doing great", despite the split.
Dylan wants to follow in his dad's footsteps by becoming an actor and has asked his famous father to help him fulfil his dream.
The 69-year-old star revealed his son tries to use his academic achievements as a negotiating tactic to quit school to start his acting career now.
Michael who comes from an acting dynasty, his father is Hollywood legend Kirk Douglas  said: "I think it's great (he wants to be in the profession) but I'm a little worried about this no school thing."
The two stars tied the knot in 2000 at Manhattan's Plaza Hotel but their marriage has come under intense pressure in the last three years since Michael was diagnosed with throat cancer in 2010.
Douglas beat the disease and has been cancer-free for two years, but Catherine was diagnosed with bipolar II disorder in 2011 and although she was treated in a mental health facility that year she had to receive more clinic-based treatment in May this year.
Michael's son Cameron – who he has with ex-wife Diandra Luker – is also serving a prison sentence for heroin possession and conspiracy to distribute narcotics, and that has also put a strain on the couple's relationship.
Via-femalefirst