She played a teenage private investigator in TV show Veronica Mars, the movie version of which is set to hit theatres on Friday thanks to a Kickstarter funding campaign. And while leading lady Kristen Bell was keen to show she is all grown up as she stepped out in a stunning strapless pink J Mendel dress at the Los Angeles premiere at TCL Chinese Theatre on Wednesday, she didn't reckon on almost baring all.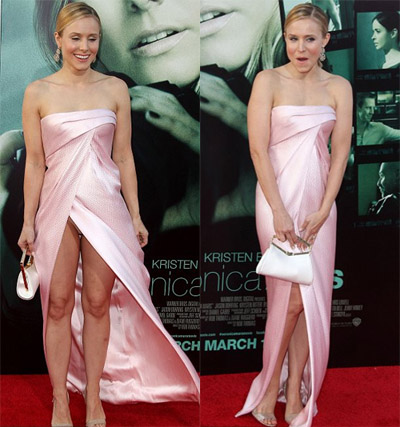 The blonde beauty's dress, featuring a daring thigh-high split, billowed open to reveal her nude underwear but she quickly got things under control as she pulled it back together. And the incident didn't seem to upset Kristen Bell who flashed a wide smile, along with her underwear. Earlier Kristen Bell showed only a glimpse of toned leg as she walked the red carpet in the silk dress which flattered her figure. The 33-year-old actress looked every inch the leading lady with her hair slicked back in a low ponytail to allow emphasis on her dazzling earrings. Nude sandals completed her look.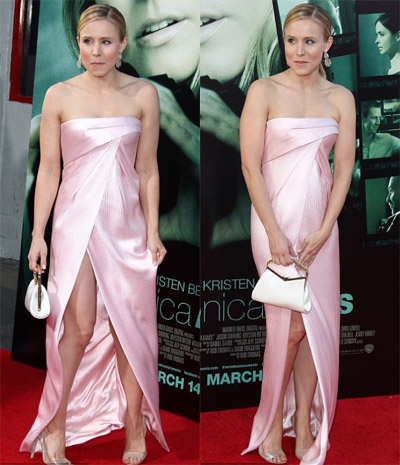 Kristen Bell couldn't contain her huge smile, which is not surprising as she has been open about how much the movie means to her. Sitting down with GMA's Lara Spencer recently, the star gushed about revisiting the character she first brought to life 10 years ago on the series that ran for three seasons, from 2004 to 2007, and revealed her long-held premonition that it was only a matter of time before the show was brought back in one form or another.'It's the best. I've wanted to make a movie since the day the show was cancelled and I always felt for some weird reason in my bones that it would happen,' she explained. 'I hate to say, "I told you so", but I knew it. It's very strange.'[Veronica] was by far the most effortless role I've had – I don't feel like I'm acting when I'm playing her, so that's why it's really special to me.'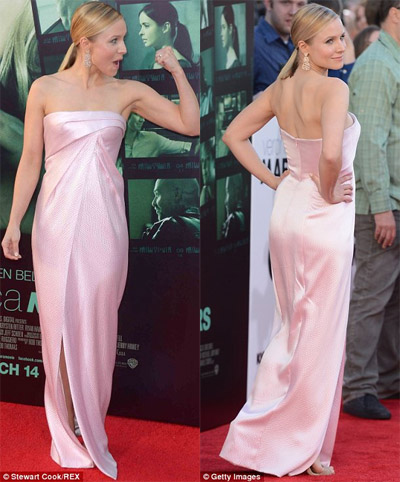 Kristen Bell admitted she was 'floored' at the reaction from fans to the Kickstarter campaign, which aimed to make $2 million in one month to fund the project, a goal reached in an unheard of 10 hours that went on to exceed all expectations – and break records – by raising a total of $5.7 million.'Our fans have always been unbelievable and we knew that, but I think they proved that to the world,' she said of the record-breaking feat.'I thought we could make our goal in a month, I had no idea they would triple the goal in a month.'I had no idea the fans wanted it that badly. We're ultimately flattered to be involved in this project that so many people want to see.'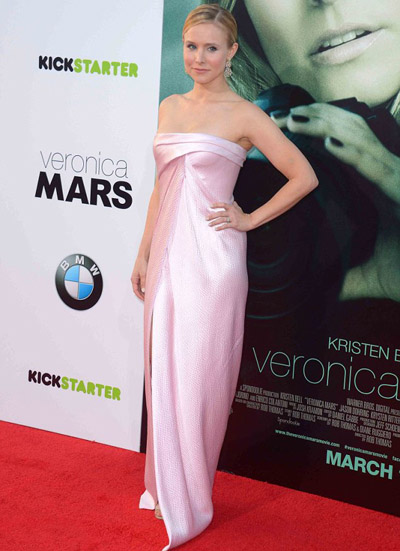 While the movie was shot on a tight schedule of just 24 days as well as a relatively limited budget, the star assured fans that the only concessions made were behind the scenes.'Nobody got paid – everyone was there because they wanted to be there,' she explained. We take it very seriously that our fans funded this movie – we're not flippant about it – and we desperately wanted the best movie possible for them, so we tried to work as hard as we could and deliver.'Picking up nine years after the series ended, Veronica reluctantly returns to her hometown of Neptune, California and her former life as a private investigator after receiving an SOS call from ex-boyfriend Logan Echolls, who has been accused of a murder he didn't commit.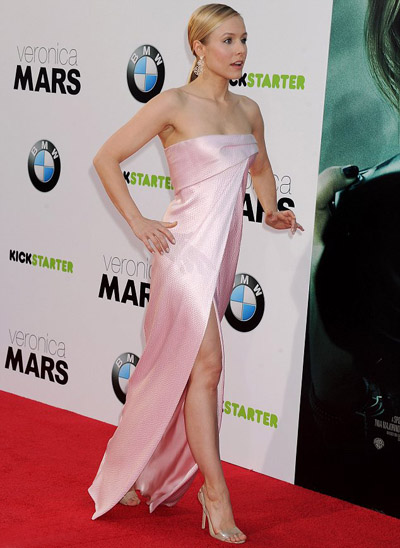 'It's kind of like a Godfather type scenario – she wanted to leave the business but she got pulled back in,' Kristen Bell explains of the premise. While she also revealed that her husband, actor Dax Shepard, made a 'nice little stud-muffin cameo' in the film, she declined to choose once and for all between Logan and Piz when it comes to the right man for Veronica.'I'm split down the middle,' she said, adding that she gets into trouble with fans all the time for her answer. 'I know there's passion with Logan, but Piz treats her so well!'The long-awaited Veronica Mars movie hits cinemas this Friday, March 14.  Dailymail