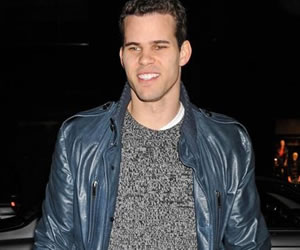 Kris Humphries' former lawyer told him not to fight for an annulment. Attorney Marshall Waller has applied to be taken off the sportsman's legal team in his marriage split battle against estranged wife Kim Kardashian, and has cited "irreconcilable differences" in his motion to be relieved as counsel. While the basketball player is keen to have his 72-day marriage annulled on the grounds of fraud – repeatedly making claims that Kim only married him for publicity – the lawyer had advised there were no legal grounds to do so because there is no evidence to support the claims.
However, Kris' out-of-state attorney Lee Hutton is continuing to advise his client to push for the annulment, leading for Waller to file to be taken off the case. Legal representatives for both Kris and Kim – who is expecting her first child with boyfriend Kanye West – are due in court today (15.02.13), with the 'Keeping Up With the Kardashians' star's attorney Laura Wasser expected to push for a trial date as early as next month. However, Kris could argue he needs more time now he has lost his California lawyer.
The former couple split in October 2011 and it was previously revealed the reality TV star is worried the drawn out divorce could have "long-term effects" on her baby. The 32-year-old beauty was treated for severe abdominal pains recently, after her doctor rushed to her home in the middle of the night to examine her and warned her to reduce her stress levels. Kim's mother and manager Kris Jenner also confirmed she has been told to relax.
She said: "Kim has been going through this divorce for months. She has been under a lot of stress because of it and the doctors told her she had a really tough week and the stress could become a problem if she isn't careful." – Femalefirst