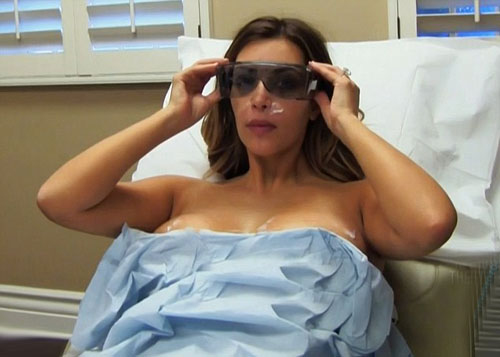 While she has denied having surgery on her famous derriere, it seems Kim Kardashian is still open to other procedures. On last night's episode of Keeping Up With The Kardashians, Kim and her BFF Jonathan Cheban visit plactic surgeon Dr. Simon Ourian, complaining about her 'wrinkly' hands. But after discovering the laser treatment helps to reduce stretch marks, Kim immediately enquires about getting the procedure done on her breasts. Meanwhile, the Kardashian family dynasty showed signs of splintering on Sunday in the latest episode of the reality show. Since Bruce Jenner moved out of the family home, Kim Kardashian and Khloé have been struggling to come to terms with the separation and now Kendall Jenner expressed her desire to move out after turning 18.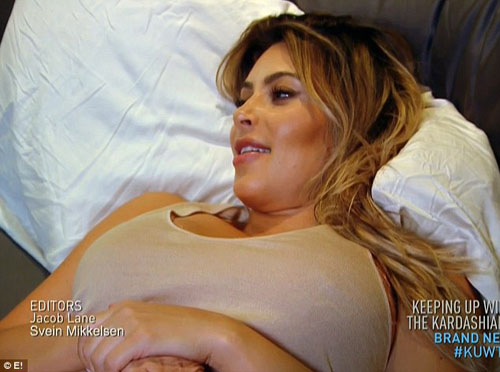 A phone call for Bruce appeared distressing for Khloé after her sister Kim was forced to tell the caller 'Bruce doesn't live here.' 'Ever since Bruce moved out he hardly ever comes by the house anymore and that's so sad to me,' said Khloé, 29, on the new episode of Keeping Up With The Kardashians. 'I still consider him as my dad and I love him," she added tearfully. 'This separation just isn't real to me, I don't want to accept it,' added the reality star, who has suffered her own break-up with former NBA player Lamar Odom following his alleged drug use and infidelities Lying on the bed, Kim had other things on her mind: 'I have to get my nails done, I have to get a fitting. I can't even think of all the things I have to do,' she moaned. '
Yeah, life is so tough,' griped Khloé sarcastically. Kendall Jenner meanwhile was celebrating her 18th birthday and preparing to fly the coop – much to 58-year-old mother Kris Jenner's dismay.  'I'm getting really serious about the house-hunting thing,' said the teen star, as she perused luxury homes in Malibu, California with her father. The matriarch and 'momager' was not impressed.  'I will never be ready for Kendall to leave home,' she complained. 'They're dropping like flies,' she said. As Bruce encouraged his daughter to gain her independence a rift erupted between him and Kris. 'Why are you in such a rush to get her to move out and to move to Malibu?' Kris grumbled.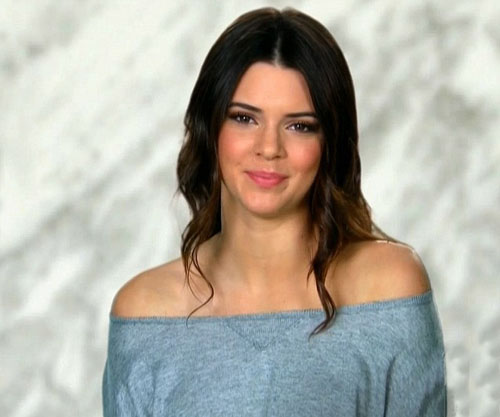 'It's time for her to take that next step in life,' said Bruce, who had a raw wound on his nose where his recent skin cancer was removed. Kendall, a budding supermodel who has just split with Harry Stiles, wasn't in the mood for an argument. 'I am legally an adult and I can do what I want,' she said, rolling her eyes. 'I don't want you guys to use this as an excuse to fight,' she said. Kourtney and her partner Scott Disick reluctantly planned a yard sale to hawk some of their abundant possessions. 'The whole family has a slight hoarding gene but my mom is definitely one of the worst," said Kourtney, 30, as she held up several almost identical potato peelers. 'I mean how many potato peelers do you need?' she asked her mother.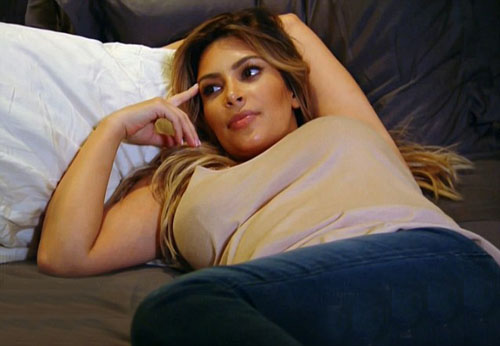 'She feels like she needs to keep this toothpick from when she had lunch with her best friend Sally…it's kind of f***ed up,' she teased. When it came to the crunch Kourtney was the one who struggled to part with her possessions. 'She's turning into a little hoarder too…and it's really gross,' said Khloé. 'Everything has a story behind it and it's so emotional for me,' huffed Kourtney. The girls were in competition to impress Bruce for his 64th birthday to make sure he didn't feel left out following the split with Kris. Khloé organised an elaborate dinner with gifts and a helicopter cake. 'You've always been my favourite,' Bruce told Khloé.
'Khloé is making us look bad, I feel like we have to out-do Khloé,' said Kim as she planned a secret reunion with some of Bruce's Olympic teammates from 1976. After a few phone calls she persuaded Fred Samara and Fred Dixon to join the dinner. Bruce seemed genuinely overjoyed to see is old friends. 'We haven't gotten together in 37 years, that's amazing,' he beamed. celebrate Kendall's 18th birthday the family rented out the entire Magic Mountain theme park so no one would have to queue. The family rode roller-coaster rides together yelling and screaming on the gravity-defying attractions. 'It's scary and fun…a bit like turning 18,' Kendall said. 
Dailymail