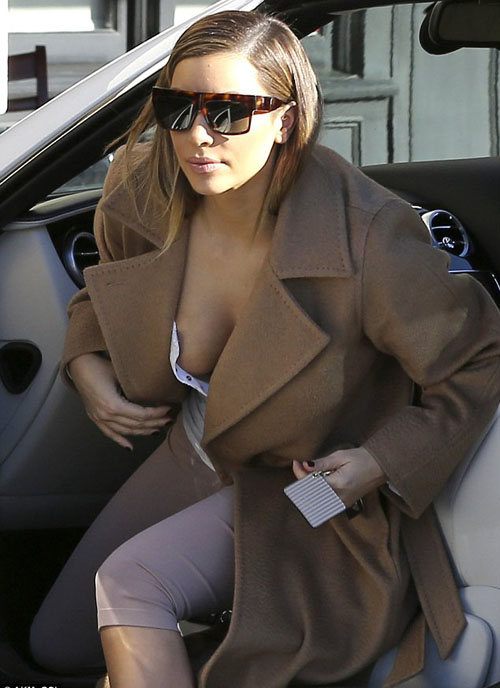 On Saturday she showed off her post-baby figure in some racy selfies but Kim Kardashian almost unwittingly flashed more than she bargained for on Sunday.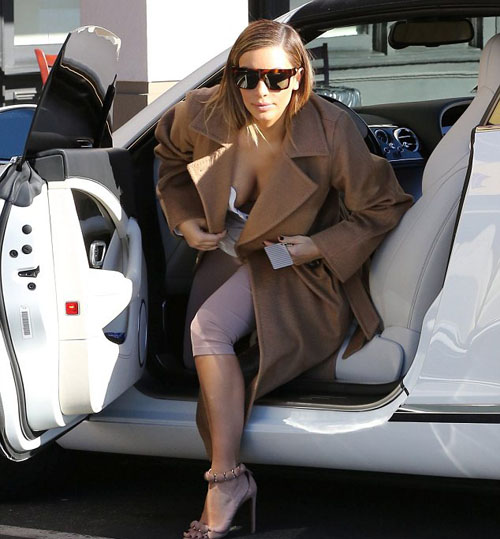 While she attempted to cover up in a long beige coat, Kim's low-cut top revealed a great deal of her cleavage as she emerged from her car, almost leading to a nip-slip. Luckily the 33-year-old reality TV star got things under control and managed to enjoy her lunch at Maria's Italian Kitchen with close pal Brittny Gastineau without any further incident. Kim Kardashian blonde hair was loose around her shoulders and the reality TV star's make-up was perfect as ever.  She also wore light coloured capri pants and nude stiletto sandals. 
Kim later left the eatery carrying a take-out bag. It's not surprising Kim had some food left over from her lunch, she revealed on Saturday just how she lost her baby weight. She spoke to TMZ while out out and about with Gastineau in Beverly Hills, and spoke about her recent selfies showing off every inch of her curvaceous figure. Asked how she achieves her 'ripped'  body by TMZ, Kim responded: 'No carbs, workout and dedication!'. Complimented on her body, a humble Kim added: 'Why thank you.'
The star also shared a video from her morning jog on Keek on Sunday, showing another way she stays fit. In the first of two Instagram pictures of herself and her pal Blac Chyna, Kim cropped out both of their heads, leaving the focus on her and her friend's bodies.  Kim was clad all in black while her friend was in a matching grey bra top and leggings. Kim captioned the first snap, 'Getting right for the new year', showing that she is taking exercise and weight loss just as seriously in 2014 as she did last year.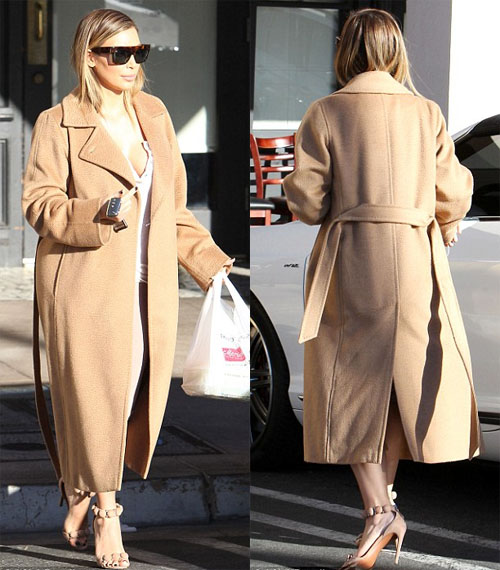 The second snap was another selfie but this time showed the star and her pal's bottoms in their figure hugging workout pants. Since losing over 50lbs following her daughter North's birth, Kim has been keen to show off the results. In October, she posted a very revealing snap of herself in a high-cut swimsuit. She added the caption 'No filter' to her big reveal snap. -Dailymail