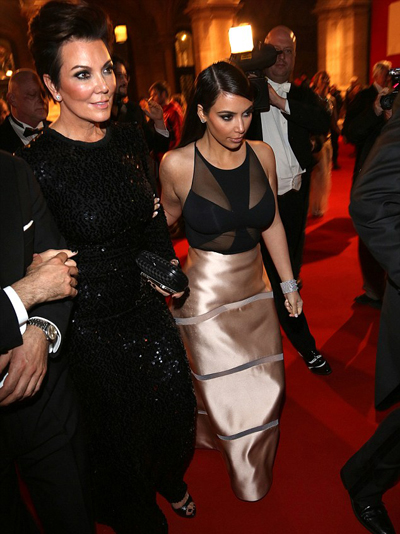 It had been reported that she was an 'annoying' date who wouldn't dance with billionaire mogul Richard Lugner despite a $500k pay check. But now TMZ has revealed that it was Kim Kardashian who left the Vienna Ball angered on Thursday night. TMZ claimed that Kim was approached by a white male who was working at the event with a 'black face' and began to mimic her fiance Kanye West. MailOnline have reached out to Kim's representatives who have so far been unavailable for comment.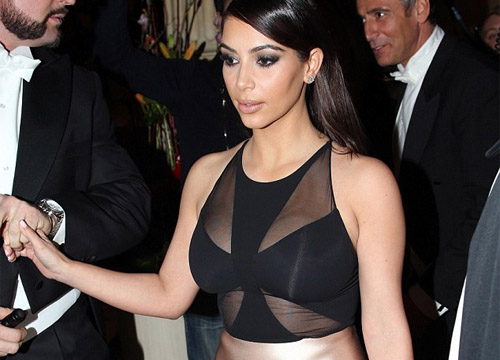 The site also claims that Richard raised and Kim Kardashian – who stayed for around an hour and a half after the incident before leaving – finally made her exit when another man made a racial remark. TMZ reported that a man offered to dance with her 'if the orchestra played N****rs in Vienna', referencing Kanye's song N****rs In Paris. Meanwhile, according to RadarOnline, the 81-year-old billionaire host Richard raised told reporters during a photo call at his Lugner City mall that the reality star was not doing what he wanted.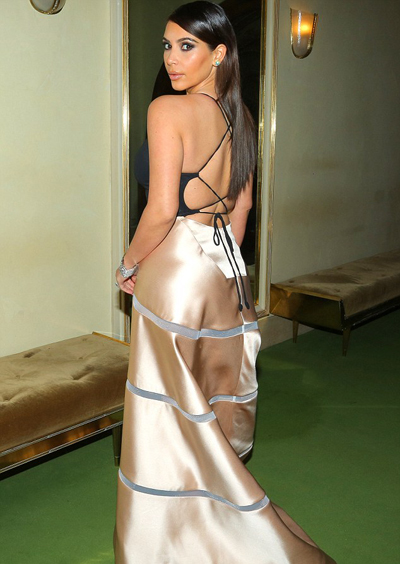 Kim Kardashian is annoying me because she's not sticking to the program,' he said. The 33-year-old was reportedly paid $500,000 for her services. But to make matters worse, TMZ also reported that Kim 'told her people Lugner was aggressive', grabbing her and asking her to lose her security to be alone with her.The incidents were believed to have been caught by the Keeping Up With The Kardashians camera crew. The reality star certainly looked uncomfortable earlier in the day on Thursday as she attended a press conference with the senior citizen in front of his shopping mecca in the Austrian city.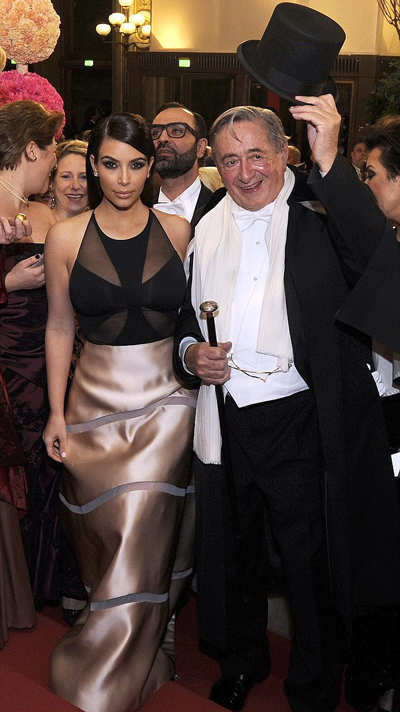 Momager Kris Jenner seemed to be thrilled, however, with the appearance, as she was seen laughing and smiling while her daughter fulfilled her obligations. Lugner's gripes about the future Mrs Kanye West had to do with how much time she would spend with him, according to the report. The European tycoon had expected Kim Kardashian and her mother to be by his side soon after they landed from New York City. But instead they went to a Schnitzel restaurant to film scenes for their E! reality show. '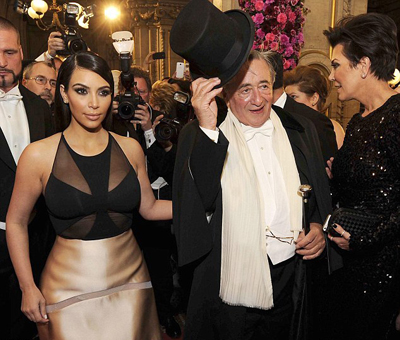 She's filming and so she doesn't want to have me around,' he told a group of reporters. He added, 'The guest should be with me and not anywhere else that is not agreed upon.' Paris Hilton was his guest in 2007. Carmen Electra and Dita Von Teese have also flown to Vienna to be with the business owner for the Opera Ball. Another gripe Lugner had was that she didn't want to dance with him. He announced in a press conference that at 11:45 p.m. during the ball, the beauty would join him on the dancefloor. But Kim Kardashian added that it would not be her, but her mother dancing with the grey-haired man. 'I'd rather watch the dancing,' she explained. Proving that he really isn't a fan of the looker, he even joked that he had had cosmetic procedures – 15 shots of Botox – just as Kim has, according to Radar.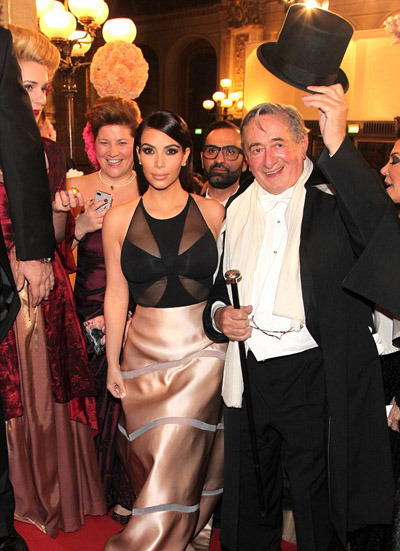 'What's good for Kim Kardashian is good for me too,' he said. By the looks of it, Kim seemed to be doing her job in Vienna quite well. She was photographed with Lugner at the airport on Wednesday, then again at the mall on Thursday. She was also seen holding his arm at the Ball. During her daytime appearance, the new mother looked amazing as she showed off a trim waistline in a fitted white dress that would be appropriate for a spring tea party. She also wore a matching white coat as she posed next to the entrepreneur, who looked exhausted and stressed out. Not one to give glamor a day off, Kardashian walked in light grey high heels during her meet and greet.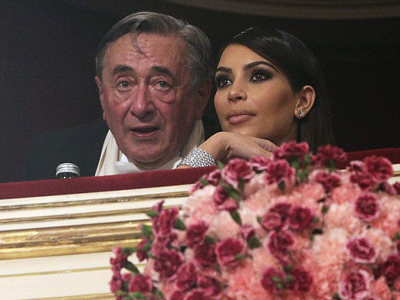 Her hair was worn straight and long, and there wasn't much color on her face, just the usual black eye makeup and touch of pink lip gloss. Numbers as low as $150,000 and as high as $500,000 have been whispered about. There has also been reports that the women get to borrow expensive jewelry for the Ball. Lindsay Lohan was memorably a no show at the event in 2010 after promising to appear. In 2011 Lugner made a misstep when he paid Karima El-Mahroug €40,000 (£34,000) to be his escort. Unbeknownst to Lugner, Karima was also known as 'Ruby The Heart Stealer,' and was one of Silvio Berlusconi's infamous 'bunga bunga' girls.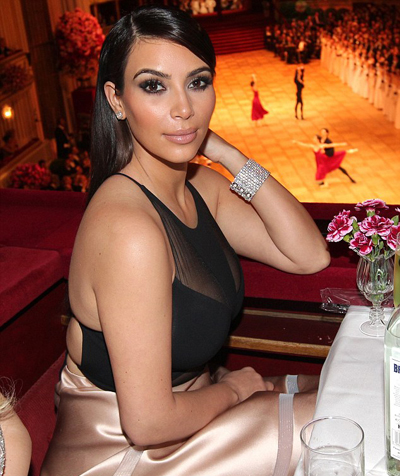 In February 2011, Berlusconi was charged with paying for sex with Mahroug between February and May 2010 when she was under 18. He was also charged with abusing his political powers in an attempt to cover up the relationship. On 24 June 2013, Berlusconi was found guilty of paying El Mahroug for sex when she was 17 years old, and of abusing his powers in an ensuing cover up. It's understandable why Kris and Kim Kardashian wanted to flee the US this week. On Thursday RadarOnline reported their show Keeping Up With The Kardashians lost 500,000 viewers in one week. Season nine has had some very disappointing numbers overall with the season premiere at 2.56 million viewers.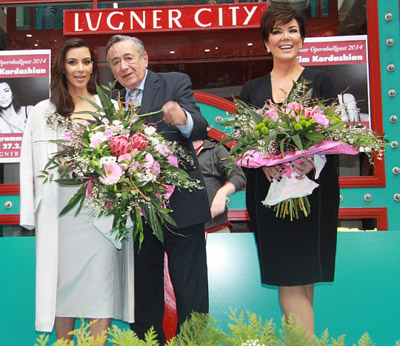 The show used to see almost almost 3.4 million viewers in its hey day. That's almost 100,000 more viewers than now. Still, the show has been renewed for several more seasons, according to TMZ, in a deal that will be worth more than $40m. Kim Kardashian has been spending more time in Europe as she is planning her summer wedding to West there. According to UsWeekly, the event will take place just outside of Paris in May. On Wednesday Kim told E! that the ceremony will be small and intimate.   Dailymail