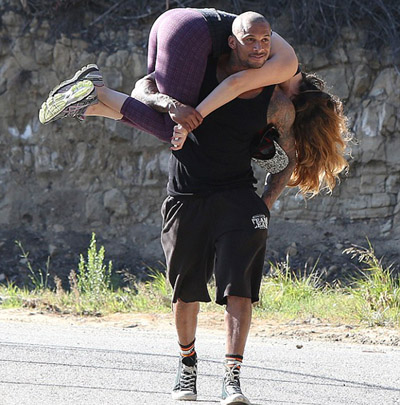 She's currently enjoying a brief spell in Hollywood and Kelly Brook seems to be spending lots of her time working out there. The model is currently in the States with her muscular boyfriend David McIntosh and his healthy lifestyle is clearly rubbing off on the 34-year-old. On Thursday, the loved-up duo were pictured enjoying a pre-Valentine's day romantic hike in the Hollywood hills when David picked his lady in the air and carried her some of the way.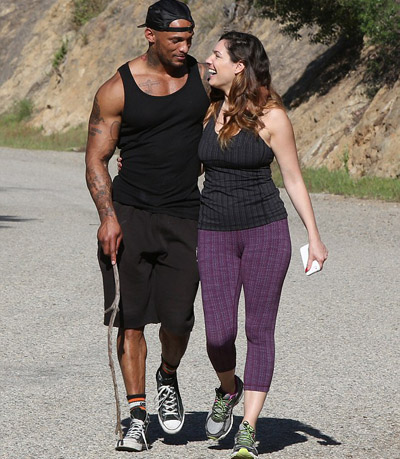 Kelly Brook was dressed once again in her workout gear for the trek, wearing a simple and plain black vest top which she teamed with a super tight pair of purple cropped tartan leggings. The stunning lady seemed thrilled when her man carried her after she became a little exhausted.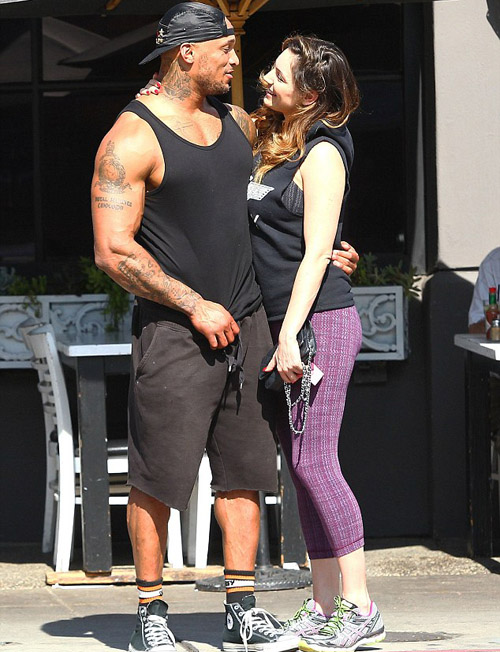 The romantic pair spent the rest of their jaunt walking up the hills looking into each other's eyes and nuzzling up to one another in a PDA. David McIntosh was much more covered up than he was the day before when the pair hit the beach together.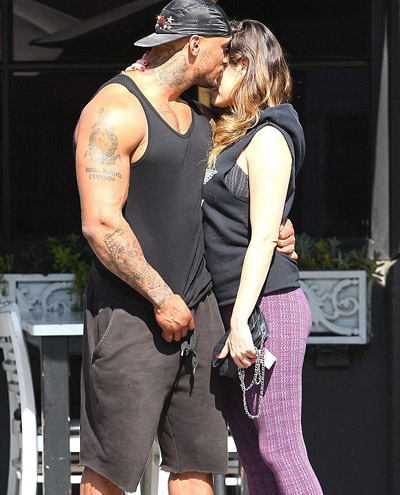 He had worn a super tight pair of short shorts which looked more like underwear. But on Thursday David McIntosh looked much more comfortable in a long pair of black board shorts which he wore with a black vest top. Earlier in the day, Kelly Brook was spotted picking up some items from a local store.  She still wore her leggings and trainers but had opted to switch things up by wearing a black Boy London vest top.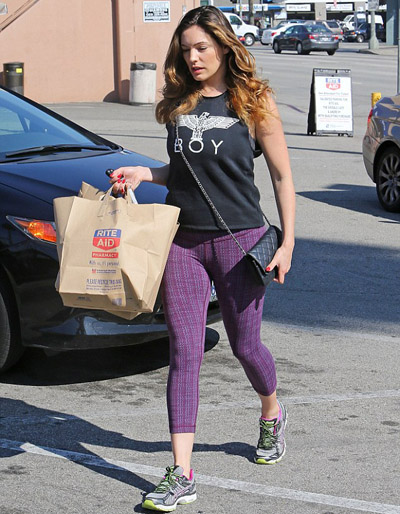 The pair once again posed for a moment and indulged in a little cuddle before making their way back home. Kelly Brook and David McIntosh have moved onto Los Angeles after spending time in Miami, and were spotted in Palm Springs on Monday. Writing on his blog on Friday the muscle man indicated the reasoning behind wearing his revealing outfit earlier: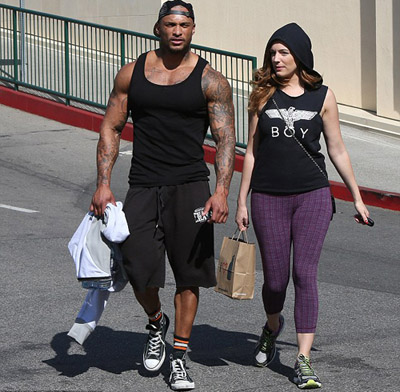 He wrote: 'Couldn't stay in NYC for too long due to the whack weather as the only outfits I posses are short shorts and vests!' The 27-year old hunk also revealed he was in Miami to shoot his calender, and will be doing some hosting work during fashion week in Washington DC. Kelly Brook and David have been enjoying an extended stay in the US recently while she shoots a new swimwear campaign for high street retailer New Look.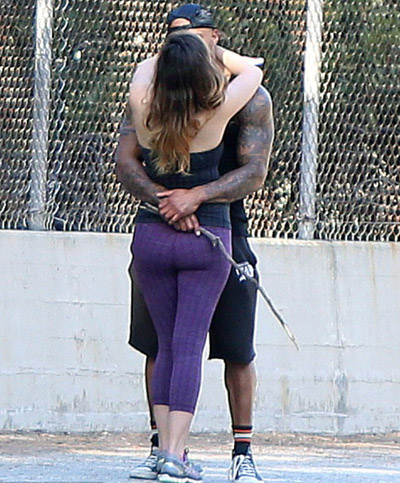 But despite the warm location, Kelly Brook says flying back and forth to different places is her least favourite part of the job, and makes her feel more grumpy 'Probably when I'm travelling,' the model told OK! magazine when asked when she feels least sexy.'I feel travelling can make you quite tired and groggy. Lugging bags around and not having much sleep makes me a bit grumpy and not very sexy, but I have to travel quite a lot for work.'
-Dailymail