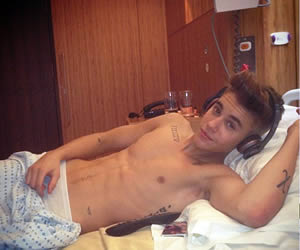 The heart-throb Justin Bieber – blasted for being two hours late on Monday — spent 20 minutes undergoing first aid. He had slumped into the arms of aides as he left the stage and was then given oxygen. His manager Scooter Braun told the shocked crowd Bieber was having to be treated by emergency medical teams — as it looked touch and go whether the singer could continue.
As droves of parents began leaving with their kids just like on Monday, Braun said: "He's backstage with the EMTs and the doctor. They're telling him they want him to go and see about his lungs." He then announced Bieber would finish his show, begging: "We're not trying to be disrespectful. Just bear with us."
The Justin Bieber was belting out hit Beauty And The Beat for the 20,000-strong crowd when he left the stage at 10.40pm. A source said: "He was on the verge of tears, saying, 'My lungs hurt' as he walked off." But at 11pm Bieber returned to sing. Later he was taken to hospital. There was speculation that days of partying had caught up with him.
The scare comes after he was booed for his late appearance on Monday. Many fans had to leave before the show. Early this morning Justin thanked his fans on Twitter and posted a picture online. He tweeted: "getting better. thanks for everyone pulling me thru tonight. best fans in the world. figuring out what happened. thanks for the love." – Thesun