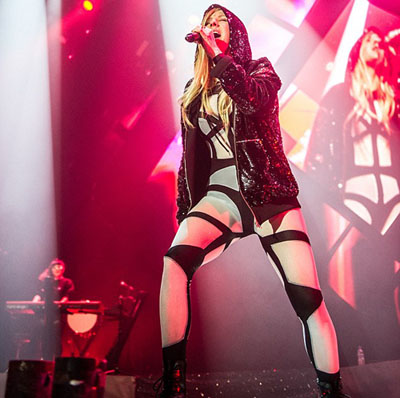 She's taken to the stage in a series of rather racy and revealing ensembles over the past few months. But Ellie Goulding took her penchant for provocative dressing to the extreme as she performed at Nottingham's Capital FM Arena on Wednesday night. Putting on a very daring sartorial display indeed, the 27-year-old singer left little to the imagination in a entirely nude semi-sheer bodysuit.  Despite having only a series of thick black panels preserving her modesty as she took to the stage, the Goodness Gracious hitmaker put on a confident display as she bounded around in time to the music.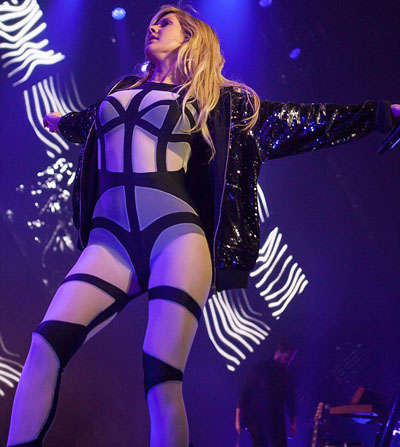 With the BRIT Award-winning star's choice of outfit showcasing her slim figure to perfection, she added an edgy look to her revealing stage outfit with a black sequin zip-through hoodie and grungy black leather boots. And it would seem Ellie Goulding was delighted with the reception she received from her fans, writing on her Twitter page: 'Thanks Nottingham! Buzzing! My mum loved her cameo on screen.' While she is well-known for her provocative outfits, Ellie has previously insisted that her management don't force her to dress in a certain way.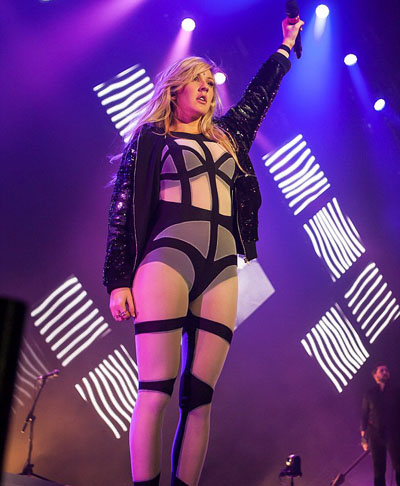 She recently said: 'That would not come into it. My management would never force me to do anything, because they know I'm strong-minded. I've never been an artist to say, "OK, I'll wear that", or "I'll wear less".' Ellie Gouldinge has previously explained she likes to leave her usual low-key style at the door and opt for more racy and revealing ensembles when she takes to the stage to perform. She said in an interview with ELLE magazine: 'Day to day, I'm way more casual.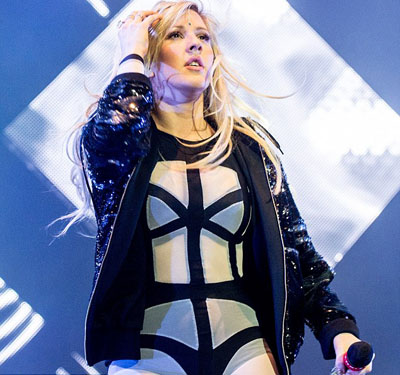 I'm a bit of a tomboy but I don't mind [putting] my legs out.'But when I'm onstage, I've found this glittery cape and these cool things I'll probably use over and over again.'So it's definitely more sparkly, revealing, and special. And I wear heels, which I don't usually do. Ellie Goulding new boyfriend, McFly's Dougie Poynter, recently confirmed the couple were dating following months of speculation regarding the nature of their relationship.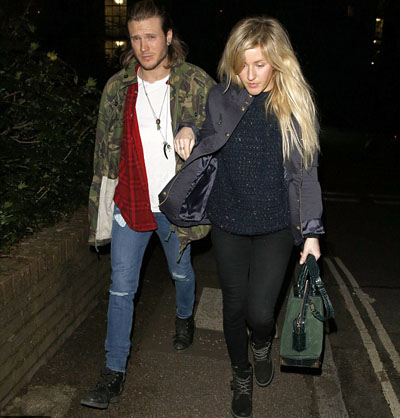 Speaking to the Mail, he said: 'We've been seeing each other since last year. Ellie Goulding a great girl, such a lovely person and a breath of fresh air in this industry.'In the music industry you always bump into the same people, so  it's nice when you get to meet other musicians you like and want to spend time with.'  Dailymail