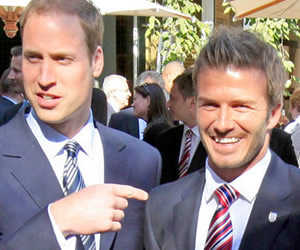 David Bekham is the close friend of Prince William and has always been highly complimenting him.
David Beckham and Prince William have been friends since they joined forces to secure the 2018 World Cup. David Beckham and his wife Victoria Bekham were also invited at the royal wedding of Prince William and Kate Middleton.
David Beckham 36, appreciates his 29 years old pal Prince William. According to David Beckham, "For a person of such a young age he has an aura. He has got the charisma of a king. He walks into a room, and everyone knows he's there. Not because he walks in shouting about it, but because he oozes that charm."
David Beckham and his mother Sandra is big fan of Duke of Cambridge Prince William.