She has never exactly been shy about covering up her voluptuous figure. And Coco Austin was at it again during a photo shoot with dance troupe The Vanity Vixens in New York City recently.
[contentblock id=2 img=adsense.png]
The 34-year-old wife of rapper Ice T posed in a series of eye-popping outfits to promote her off-Broadway burlesque show.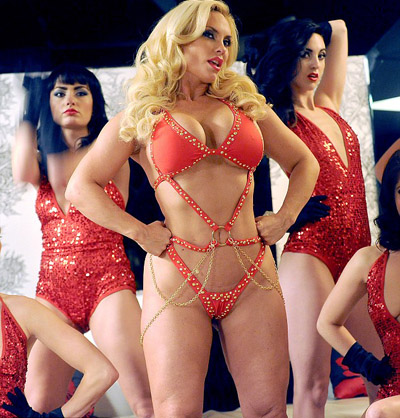 The buxom reality star donned an intricately designed bra and panties, held together with a series of studded straps and which showed off a great deal of her ample figure.
[contentblock id=2 img=adsense.png]
A strip of material barely covered her famously curvy derrière which was covered by a series of gold chains. Coco Austin, real name Nicole Natalie Austin, wore heavy eye make-up and bright lipstick with her blonde hair curled in a retro pin-up style.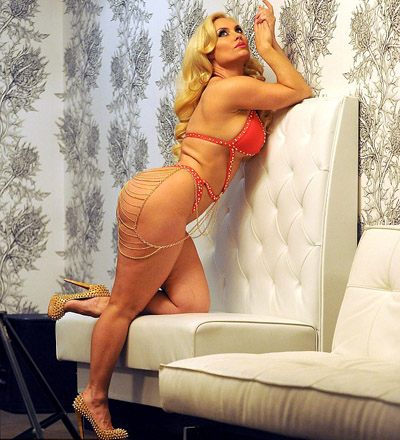 The star happily posed with the group of dancers who all wore matching ensembles while Coco Austin, stood out in her unique exhibitionist style. In another shot, she sported a retro-style fluffy gown with feathers over bright pink underwear and matching heels while draped over a black leather couch. If this wasn't enough flesh on show, Coco also opted to sport a plunging tiny black basque with silver netting and fishnet tights.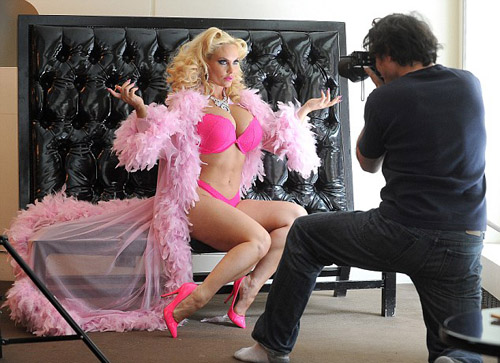 At one point, she lay on the couch with her legs in the air while receiving a make-up touch up. And this is not the first time Coco Austin has been involved with burlesque – having replaced Holly Madison as the star of Las Vegas Peepshow last year.
[contentblock id=3 img=gcb.png]
The star has been busy embracing new projects after the cancellation of she and her husband's TV reality show Ice Loves Coco after just two years on the air.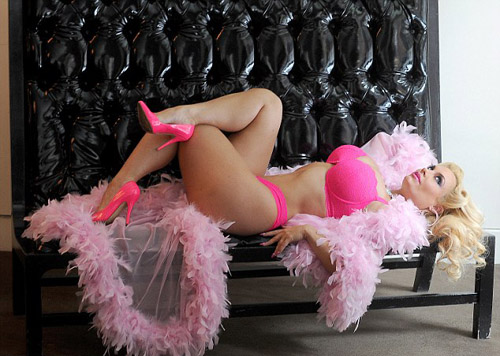 However, the couple are hoping to return to the small screen and are currently developing a talk show with Ryan Seacrest Productions. Ice-T, born Tracy Marrow, said last month: 'We stopped the Ice Loves Coco Austin show to move to another show. '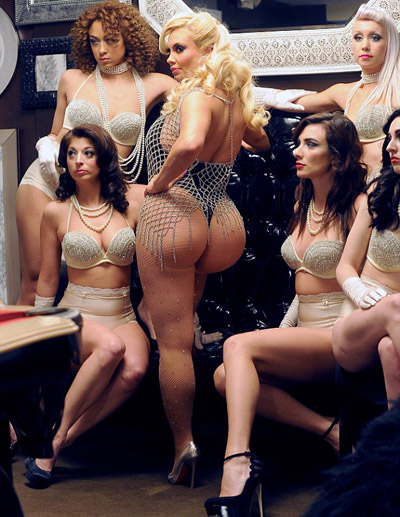 The reason we cut the Ice Loves Coco Austin show is because reality TV, you can only do so much with reality TV – when you're doing reality television, at some point, you start to loop,' he added. Coco now lives in New York City where Ice-T films the crime drama Law & Order: Special Victims Unit. Dailymail