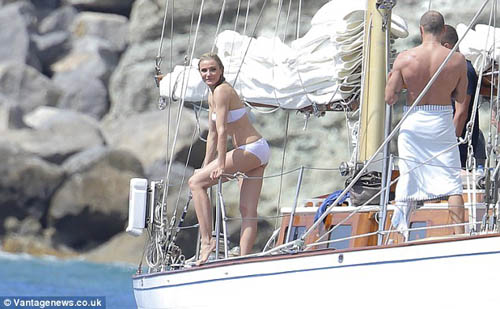 She's written a book about how to achieve the perfect body and it's easy to see why. Cameron Diaz was showing off a near perfect figure during a recent stop in St.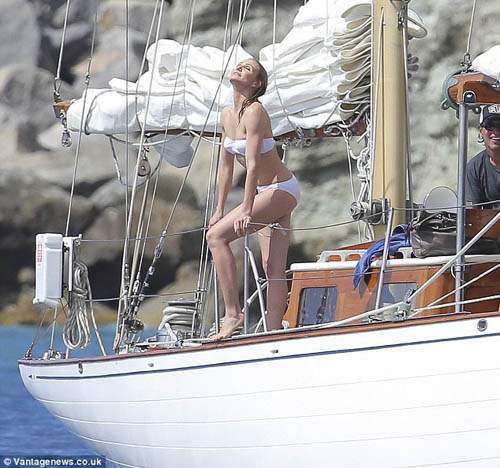 Barts where she was being photographed by Vogue. The 41-year-old appeared flawless as she paraded around a boat, eventually diving off of it, in a skimpy white bikini. The Los Angeles native appeared to be in a good mood as she smiled to her group of friends, who were mostly men. At one point she put her left leg up on the boat's ridge as if to show off how toned her pins are.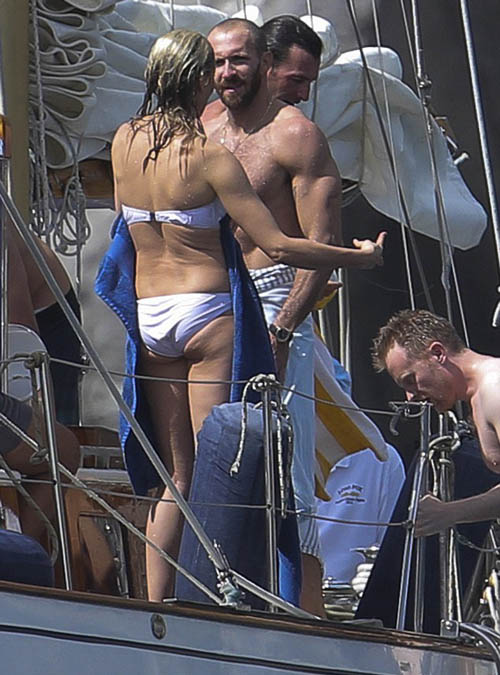 The Counselor actress also stretched her arms out, revealing enviable muscle tone. The movie star, who showed off her new line of shoes in early February, seemed to have no fear of the ocean as she was seen taking a dive into the warm Caribbean waters. The former model showed good form as she pointed her toes and stretched her arms out. Once in the water, she kicked her legs in the arm, showing off how agile she is in the water.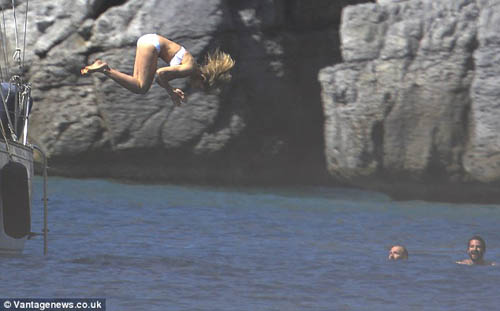 Just days earlier the There's Something About Mary star was seen modeling a red outfit for the same shoot. The beauty is no stranger to the cover of Vogue, having graced the fashion bible many times before. Cameron Diaz has been all over the country lately at book signings for her Body Book, even signing copies of her tome and guzzling water to demonstrate how important it is to get enough H2O in the morning.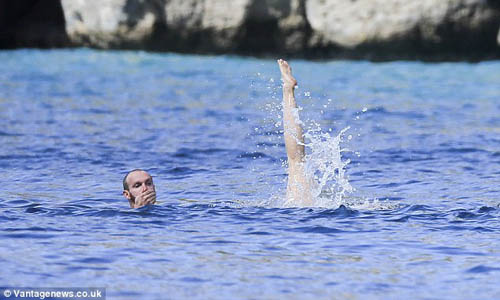 All the while, she has been solo, as in she doesn't appear to have a love interest at the moment. Her romance record is quite enviable. The friend of Gwyneth Paltrow has dated not only Matt Dillion and Jared Leto but also Alex Rodriguez, Diddy and, more recently, Elon Musk, the founder of Tesla. The one that got away appears to be her Bad Teacher co-star Justin Timberlake who married Jessica Biel and reportedly wants to start a family wit her. In an exclusive interview with You magazine, the star said girls are under too much pressure to 'look good.'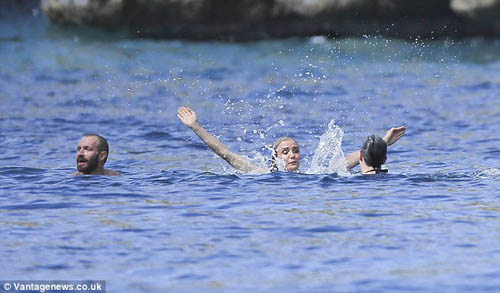 Cameron Diaz who is working on a new film adaptation of the musical Annie, said: 'On the set of Annie, we have all these little super-sweet girls who are extras and they come up to me and say, "Oh Cammie, you are so pretty, your hair is so pretty, your clothes are so pretty." 'And that's sweet, but it worries me that girls are conditioned to value themselves and judge each other by the way they look,' she added. 'I try to let them know that being "pretty" will not sustain them.'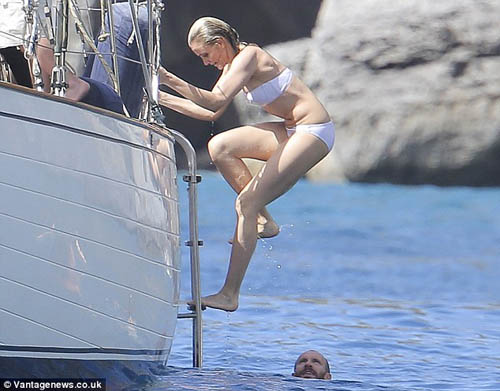 The actress adds: 'I resist that instinctive urge to say, "Oh, you are so cute" and instead ask, "What grade are you in at school?" or "What is your favourite subject?" 'Because every time we address our daughters or our nieces by saying, "You look lovely today" we are reinforcing the idea that the most important thing for a woman is to look good.' Cameron Diaz comments on body image appear in her new lifestyle guide called The Body Book, an extract from which is also included in this week's You magazine.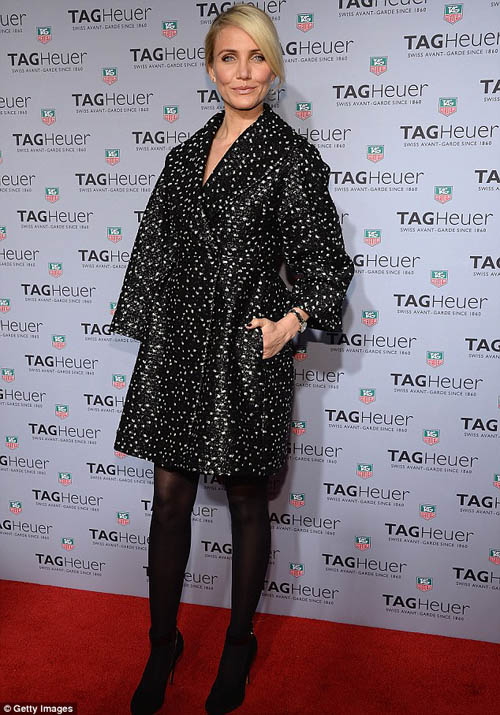 However, the 41-year-old reveals she was less body-confident at the start of her career. 'I had such bad acne that I spent half my time trying to hide from my friends, from the cameras, from everyone,' she explains. 'So I wrote the book for my 16-year-old self, who I look back on and think, "Why didn't I know these things back then?" -Dailymail