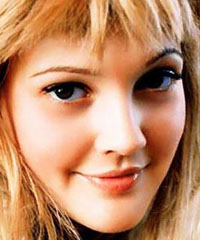 Drew Blyth Barrymore (born February 22, 1975) is an American actress, film producer and film director. She is a member of the Barrymore family of American actors and granddaughter of John Barrymore. She first appeared in an advertisement when she was eleven months old. Barrymore made her film debut in Altered States in 1980. Afterwards, she starred in her breakout role in E.T. The Extra-Terrestrial. She quickly became one of Hollywood's most recognized child actors, going on to establish herself in mainly comic roles.
Following a turbulent childhood which was marked by drug and alcohol abuse and two stints in rehab, Barrymore wrote the 1990 autobiography, Little Girl Lost. She successfully made the transition from child star to adult actress with a number of films including Poison Ivy, Bad Girls, Boys on the Side, and Everyone Says I Love You. Subsequently, she established herself in romantic comedies such as The Wedding Singer and Lucky You.
In 1995, she and partner Nancy Juvonen formed the production company Flower Films, with its first production the 1999 Barrymore film Never Been Kissed. Flower Films has gone on to produce the Barrymore vehicle films Charlie's Angels, 50 First Dates, and Music and Lyrics, as well as the cult film Donnie Darko. Barrymore's more recent projects include He's Just Not That into You, Beverly Hills Chihuahua, Everybody's Fine and Going the Distance. A recipient of a star on the Hollywood Walk of Fame, Barrymore appeared on the cover of the 2007 People magazine's 100 Most Beautiful issue.
Barrymore was named Ambassador Against Hunger for the United Nations World Food Programme (WFP). Since then, she has donated over $1 million to the program. In 2007, she became both Cover Girl's newest model and spokeswoman for the cosmetic and the face for Gucci's newest jewelry line. In 2010, she was awarded the Screen Actors Guild Award and the Golden Globe Award for Best Actress in a Miniseries or Television Film for her portrayal of Little Edie in Grey Gardens.
DREW BARRYMORE has been a favorite of film audiences for almost three decades. Behind the camera, she is also enjoying success as a producer under her own Flower Films banner, with such hits as Never Been Kissed, Charile's Angels and 50 First Dates. In addition to producing the films, Barrymore joined Cameron Diaz and Lucy Liu to star in both Charlie's Angels and Charlie's Angels: Full Throttle, which, together, grossed more than half a billion dollars worldwide.
She has also earned praise from both critics and audiences for her performances in a wide range of comedies, most recently including the romantic comedies Music & Lyrics, opposite Hugh Grant, Fever Pitch, in which she starred with Jimmy Fallon under the direction of the Farrelly brothers, and 50 First Dates, opposite Adam Sandler. Barrymore also starred in the 2007 drama Lucky You for director Curtis Hanson. Other recent films have included George Clooney's widely acclaimed biographical satire Confessions of a Dangerous Mind, with Sam Rockwell; Penny Marshall's Riding in Cars With Boys; Never Been Kissed, which marked Barrymore's producing debut; Home Fries, opposite Luke Wilson; and the smash hit comedy The Wedding Singer, opposite Adam Sandler.
Barrymore made her feature film debut at the age of five in the science fiction thriller Altered States. However, it was her scene-stealing performance as the precocious Gertie in Steven Spielberg's 1982 blockbuster E.T. the Extra-Terrestrial that catapulted the young actress to stardom. She went on to star in the thriller Firestarter and the comedy Irreconcilable Differences, for which she earned a Golden Globe nomination for Best Supporting Actress.
Her other film credits include Stephen King's Cat's Eye; Far From Home; Poison Ivy; Guncrazy, for which she received another Golden Globe nomination for Best Actress; Bad Girls; Herbert Ross' Boys on the Side; Mad Love; Batman Forever; Woody Allen's Everyone Says I Love You; and Wes Craven's horror hit Scream, which launched a successful franchise. Barrymore next stars in and produces He's Just Not That Into You, a comedy ensemble with Jennifer Aniston, Scarlett Johansson and Ben Affleck.