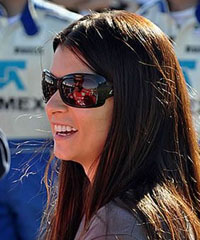 Race car driver. Born Danica Sue Patrick on March 25, 1982 in Beloit, Wisconsin. Patrick began racing go karts with her sister at age 10 and dropped out of high school to advance her racing career in England. It was there that she finished second at the Formula Ford Festival, the highest ever finish by either a woman or an American in the event. In 2002, Patrick signed with Rahal Letterman Racing, which is co owned by former driver Bobby Rahal and talk show host David Letterman. During the next two years, Patrick achieved moderate success and was a consistent finisher on the podium, but never won a race.
In 2005, Patrick became the fourth woman to race in the Indianapolis 500. Her fourth place finish was the highest ever for a female driver, besting the previous record of ninth set by Janet Guthrie in 1978. She led 19 laps of the race, becoming the first woman ever to lead the Indy 500. Later that year at Kansas Speedway, she won her first pole position to become the second woman to accomplish this feat in the IRL (Indy Racing League) IndyCar Series. Patrick was named Rookie of The Year at the 2005 IRL Championship.
Patrick's 2006 year began tragically when teammate Paul Dana was killed in a crash the morning of the Toyota Indy 300. Patrick had solid top ten finishes throughout her IRL campaign that year, coming in 9th place in the standings. Among many honors, she was named Female Athlete of the Year by the United States Sports Academy.
Her status as a female race car driver, combined with her youth and good looks, has netted Patrick numerous media opportunities. She's served as a host on Spike TV, been featured on the cover of Sports Illustrated, and has appeared in commercials and music videos. In 2006, she published her autobiography, Danica Crossing the Line.
Patrick married physical therapist Paul Edward Hospenthal in 2005.