The new Apple iOS 14.6 release provides both new features and an avalanche of critical security updates, but now millions of iPhone users have a decision to make because upgraders are reporting it also causes serious problems.
Spotted by excellent investigative tech blog PiunikaWeb, upgrading to Apple iOS 14.6 is causing extreme battery drain for a significant number of users. Complaints can be found across Apple's Community Forum, Reddit and Twitter while YouTuber iAppleBytes also found battery tests on seven models of iPhone produced "terrible results" after being upgraded to iOS 14.6.
"The improvement we had seen in iOS 14.5.1 is completely gone and then some," states iAppleBytes. "This is the worst battery result I have ever seen on my devices. Your experience may be different, but this is not something I have seen on a similar scale before. Fingers crossed for a quick iOS 14.6.1 [release]."
It is a response being echoed elsewhere. On Apple Communities, one thread reports "my battery life on iOS 14.6 is terrible" and asks if others are experiencing the same. At the time of publication, well over 300 responses say they have the same question. Others are reporting iOS 14.6 not only impacts battery life but "seems to damage battery health as well" (1,2,3,4,5,6,7,8,9,10 etc) while there are isolated reports of erratic leaps too (1,2).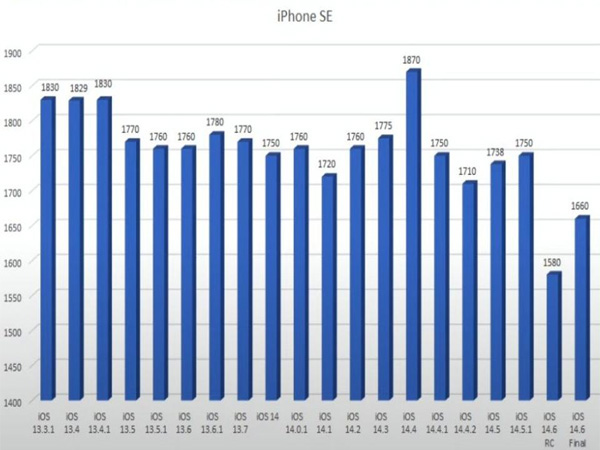 So what is behind the iOS 14.6 battery issues? On Reddit, the most popular answer pins it on power consumption when an iPhone is idle, with the redesigned (and problematic) new Podcast app pinpointed by others along with Apple Music.
In the meantime, iPhone owners have a tough call to make because iOS 14.6 fixes over 40 security flaws and Security Vs Longevity is not a trade anyone wants to make. Whatever path you choose, however, the onus is now on Apple to release a fix as fast as it can.
I have contacted Apple and will update this post if I receive a response.