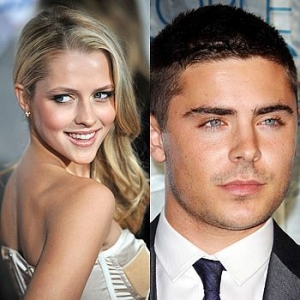 Sweet and adorable American actor Zac Efron got erotic with Teresa Palmer in a passionate night they spend together out in Los Angeles.
23 years old Zec Efron is currently dating with Australian actress Teresa Palmer after his long term relationship ended with girlfriend Vanessa Hudgens. Zac Efron and Teresa Palmer together watched Teresa's new film Take Me Home Tonight and had romantic dinner at the Pink Taco. Zac Efron also danced with Teresa Palmer keeping hands at her butt getting close to her.
It seems chances of Efron and Hudgens' reconciliation are fading away now!