Taylor Swift puts leggy display rocks racy bodysuit BBC Radio 1 s Big Weekend, She was one of this weekend's most anticipated stars at BBC Radio 1's Big Weekend. 
[contentblock id=1 img=adsense.png]
And Taylor Swift did not disappoint as she took to the stage at the annual music festival on Sunday evening, this year held at Earlham Park in Norwich.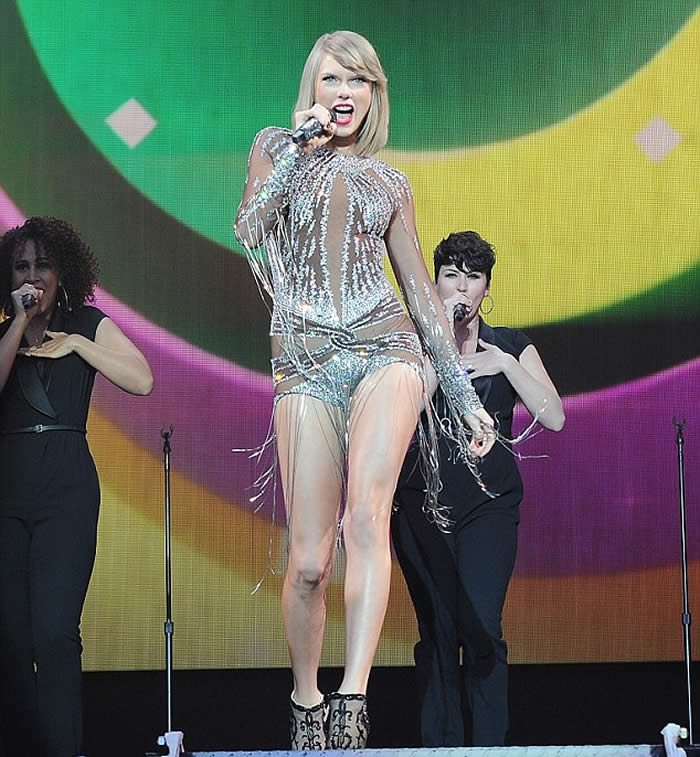 The feisty 25-year-old put on an impressive display as she performed in front of a packed-out crowd as the penultimate act of the weekend, coming on just before lead headliners the Foo Fighters. As ever, the US superstar put on a fantastically leggy show, making her endless pins the star of the show along with her award-winning vocals. 
[contentblock id=2 img=adsense.png]
The tall, slender beauty donned a sexy sheer bodysuit, with a layer of cleverly-placed silver sparkles covering her modesty across the chest and hips. Cut very high up on her thighs, her perfect pins were on full display, elongated further with a pair of sheer ankle boots with a heel. Long tinsel-style fringing coming from the sleeves and the body added a dramatic and camp flair to her set, which saw her strut up and down the stage and giving it some serious sass as she belted out her biggest hits.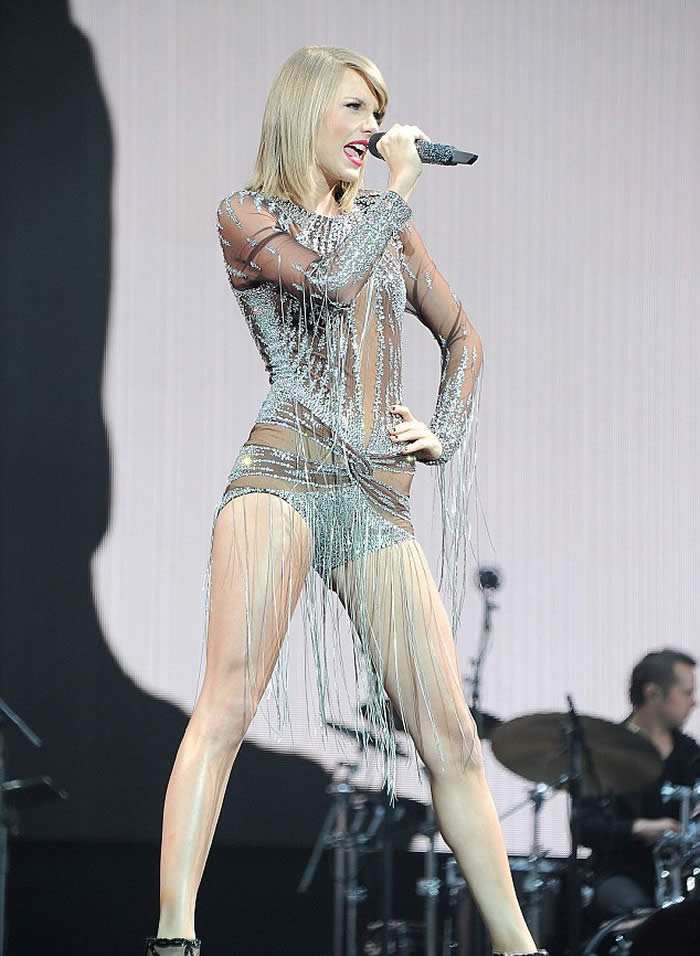 As a huge fan of all things British, Taylor tweeted her fans beforehand about her excitement for the show. 'Hi England. Hoping for a dancy crowd tonight at @BBCR1 Big Weekend in Norwich!' she wrote… and it appears she got her wish, with Twitter becoming awash with praise-filled comments for her during and after her performance. 
She preceded rock legends the Foo Fighters, who admitted that she was a tough act to follow. But frontman Dave Grohl kept the crowds entertained as he made a joke when appearing on stage shortly after the Bad Blood hitmaker left. 'I've done some weird things in my life,' he said. 'But never, never, have I ever said 'Taylor Swift was my opening band tonight!".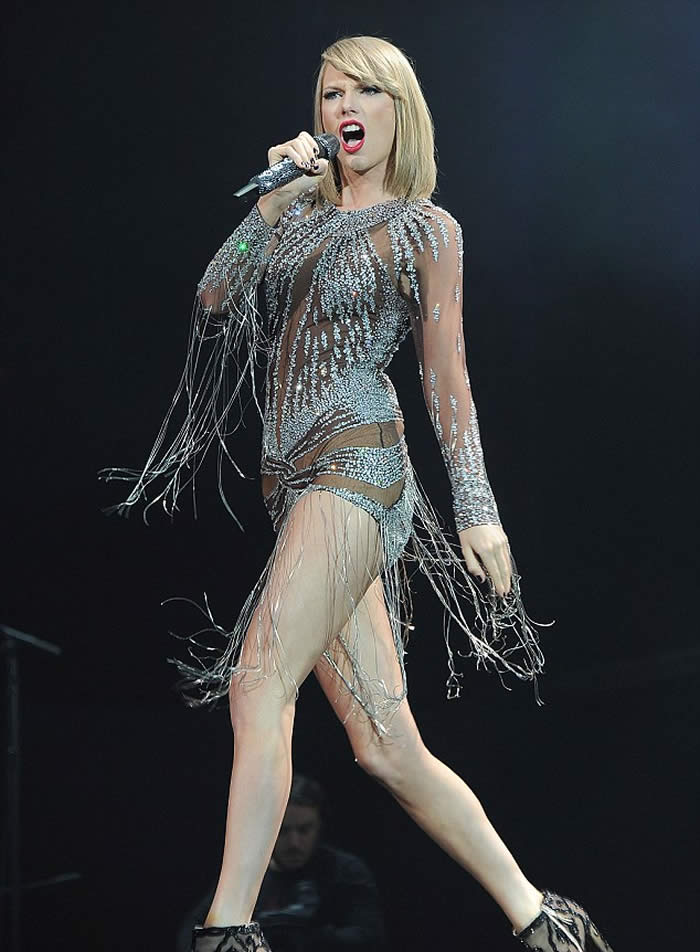 Taylor has been riding high of late, after her incredible success at last weekend's Billboard Music Awards in the US, which saw her scoop a whopping eight gongs, including the Top Female Artist prize. She was also overwhelmed to learn that her new music video for Bad Blood – an artistic and star-studded mini-movie of a clip – broke the Vevo world record for most views in 24 hours with over 20m views the time period. 
[contentblock id=3 img=gcb.png]
Meanwhile, Taylor ignored the comments made just an hour earlier by fellow singer Rita Ora. The star had seemingly bashed her ex-boyfriend Calvin Harris – Taylor's current beau – as she appeared on stage in the afternoon.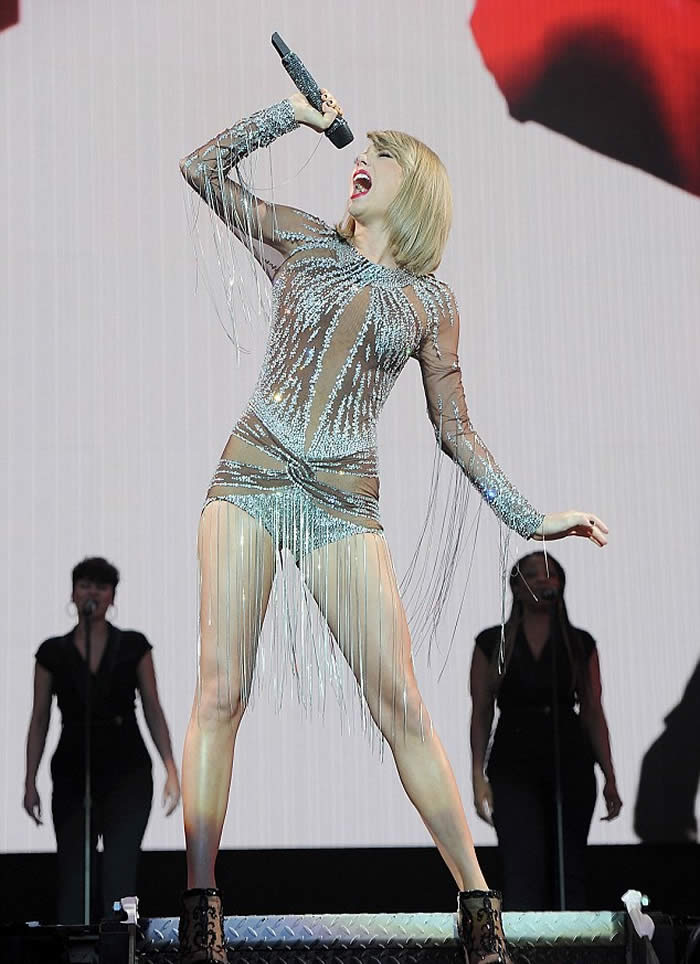 Rita and Calvin's romance ended acrimoniously last year, when he reportedly banned her from performing her song I Will Never Let You Down at the Teen Choice Awards, a track he had produced. He is also thought to be the reason her new album is being delayed, as he produced several of the tracks on the record. Speaking to the throngs of festival-goers on Sunday afternoon as she stepped out on stage, Rita seemed to make a dig at her ex. 'You know when there is a song and no matter what happens the music still stands for itself,' the 24-year-old said, while wearing a very sexy studded leather ensemble complete with over-the-knee boots.
Source: dailymail