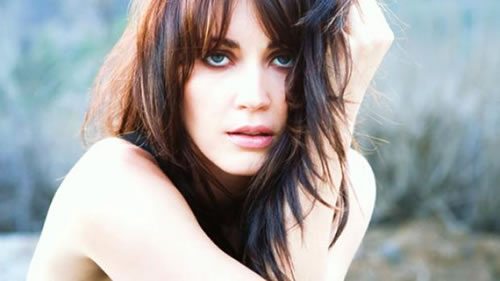 Tanit Phoenix a famous model grew up in South Africa. Her name Tanit means: "goddess of life and death" or "goddess of love" in Phoenician.She has a strong bond with nature and inherited her father's passion for adventure. She shared her father's interest in skydiving, free-falling and involves herself inall kinds of extreme sports. She also immerse herself in Reiki and massage, giving an intellectual profundity to her that increases her striking looks and other activities like playing guitar.
Tanit Phoenix started her career at the age of 15 by signing with ICE Model Management. Her enlightened beauty caught the eye of the modeling costumes and has beautified the covers of FHM, Cosmopolitan, GQ et. She has been recurrently shot for the magazine of Sport Illustrated Swimwear.
She is famous because of her heart throbbing beauty to seduce at will. She is the answer to one of the intricate questions: Which famous celebrity would you like to go skydiving with? Tanit Phoenix, the thrill seeker off set, owns the looks that can melt you and a free spirited, enlightened mind to put u back with a smile. In South African edition of FHM magazine featured her on its list of 100 sexiest women. This bare devil made a splatter last year on English media by working in a notorious shower gel ad in which she hang down topless from a crane. As she quoted: "In 2008, Tanit Phoenix posed for her first topless photo for the South African Marie Claire.
 Another act was her appearance on German Maxim cover that was equally arousing.The head-turning Tanit Phoenix played major roll in 'Lost Boys: The Thirst' and many other MOVIES. In an exclusive interview with Tanit Phoenix at Movie hole who conversed about her roles in movies Death Race 2, Lost Boys: The Thirst. "What I found very interesting about the Lost Boys script was that it showcases vampires how they really are, blood-sucking and evil, which somewhat dances around the fact that Twilight made their vampires seem beautiful, but they really are not."
In "Death Race 2″, She plays as Katrina Banks, who is an ex military sniper. Who killed a superior officer and then sent to jail. She falls in love with a character of the film Luke Goss. She does major stunts like climbing out of the car and landing with a secure channel. A few days ago word leaked that the 23 year old South African model Tanit Phoenix was one of the top competitor to put back the Megan Fox on "Transformers 3″.
Phoenix was one of the short listed actresses among the four. But the role was assigned to Rosie Huntington-Whitely.It requires a special sort of person to be coined "dangerously devoted to international fame" at the Kay Oscars, and this sassy smart, and sexy lady fits the bill while covering all important types of films so far are: crime drama, TV series, cult comedy, zombie horror and erotic thriller. Phoenix, the frequent model on commercials has the type of charisma and on the screen beauty that grasp your attention very easily.