Barack and Michelle Obama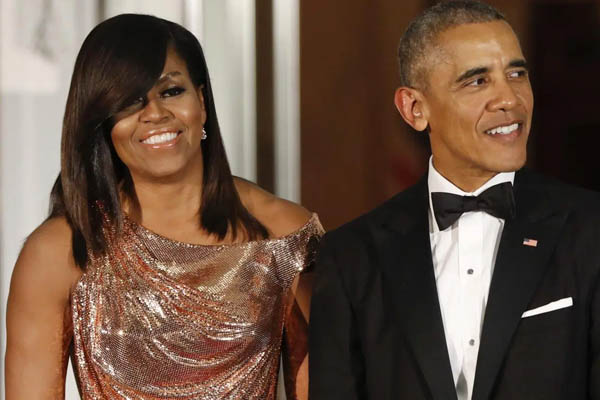 Former President of the United States Barack Obama released a statement on the death of George Floyd on Friday, where he expressed the anguish he and millions of others feel. He wrote: "It's natural to wish for life 'to just get back to normal' as a pandemic and economic crisis upend everything around us. But we have to remember that for millions of Americans, being treated differently on account of race is tragically, painfully, maddeningly 'normal' – whether it's while dealing with the health care system, or interacting with the criminal justice system, or jogging down the street, or just watching birds in a park.⁣ ⁣⁣This shouldn't be 'normal' in 2020 America. It can't be 'normal.' If we want our children to grow up in a nation that lives up to its highest ideals, we can and must be better.⁣"
Michelle, meanwhile, shared a portrait of George Floyd by artist Nikkolas Smith, alongside the message: "Like so many of you, I'm pained by these recent tragedies. And I'm exhausted by a heartbreak that never seems to stop. Right now it's George, Breonna, and Ahmaud. Before that it was Eric, Sandra, and Michael. It just goes on, and on, and on. Race and racism is a reality that so many of us grow up learning to just deal with. But if we ever hope to move past it, it can't just be on people of color to deal with it. It's up to all of us—Black, white, everyone—no matter how well-meaning we think we might be, to do the honest, uncomfortable work of rooting it out. It starts with self-examination and listening to those whose lives are different from our own. It ends with justice, compassion, and empathy that manifests in our lives and on our streets.
Kim Kardashian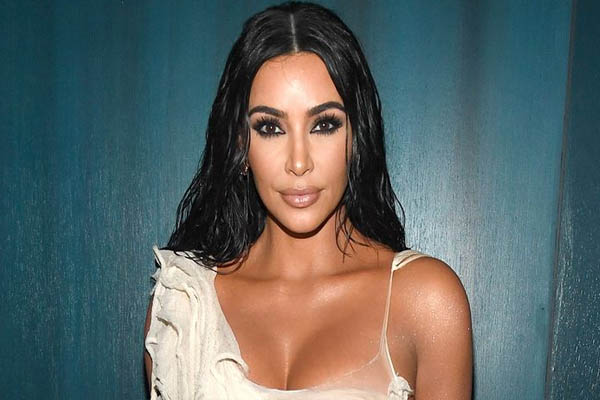 Kim Kardashian used her platform to speak to her 173million followers on Instagram. The Keeping Up with the Kardashians star wrote: "For years, with every horrific murder of an innocent black man, woman, or child, I have always tried to find the right words to express my condolences and outrage, but the privilege I am afforded by the colour of my skin has often left me feeling like this is not a fight that I can truly take on as my own. Not today, not anymore. Like so many of you, I am angry. I am more than angry. I am infuriated and I am disgusted. I am exhausted by the heartbreak I feel seeing mothers, fathers, sisters, brothers and children suffering because their loved one was murdered or locked away unjustly for being black. Even though I will never know the pain and suffering they have endured, or what it feels like to try and survive in a world plagued by systematic racism, I know I can use my own voice to help amplify those voices that have been muffled for too long."
Jennifer Aniston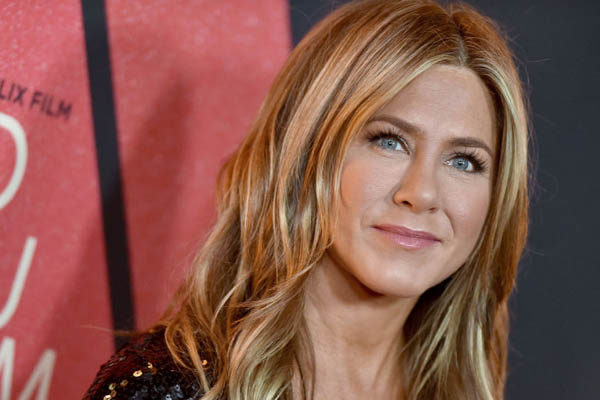 Friends star Jennifer Aniston shared a heartfelt message on social media, writing: "This week has been heartbreaking for so many reasons. We need to acknowledge that the racism and brutality in this country has been going on for a long time – and it's NEVER been okay. As allies, who want equality and peace, it's our responsibility to make noise, to demand justice, to educate ourselves on these issues, and more than anything, to spread love. How much more time are we willing to let pass without change? HOW MUCH MORE TIME? Text FLOYD to 55156 and sign the @colorofchange petition to have all four of the officers who killed #GeorgeFloyd arrested."
Beyoncé and Jay-Z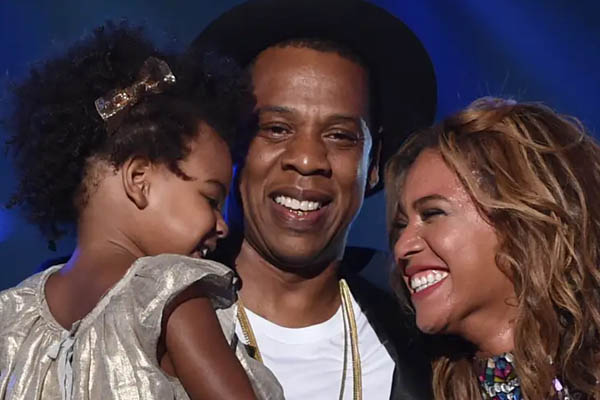 On Instagram, Beyoncé uploaded a video of herself speaking about George Floyd's death. "We need justice for George Floyd," she said. "We all witnessed his murder in broad daylight. We're broken and we're disgusted. We cannot normalize this pain. I'm not only speaking to people of colour; if you're white, black, brown or anything in-between, I'm sure you feel hopeless by the racism going on in America right now. No more senseless killing of human beings, no more seeing people of colour as less than human. We can no longer look away. George is all of our family in humanity. He's our family because he's a fellow American."
Jay-Z, meanwhile, released a powerful statement calling for justice for George Floyd. After calling Minnesota Governor Tim Waltz, the rapper wrote on Roc Nation: "Earlier today, Governor Waltz mentioned having a human conversation with me – a dad and a black man in pain. Yes, I am human, a father and a black man in pain and I am not the only one. Now I, along with an entire country in pain, call upon AG Ellison to do the right thing and prosecute all those responsible for the murder of George Floyd to the fullest extent of the law. I am more determined to fight for justice than any fight my would-be oppressors may have. I prevail on every politician, prosecutor and officer in the country to have the courage to do what is right. Have the courage to look at us as humans, dads, brothers, sisters, and mothers in pain. And look at yourselves
Kerry Washington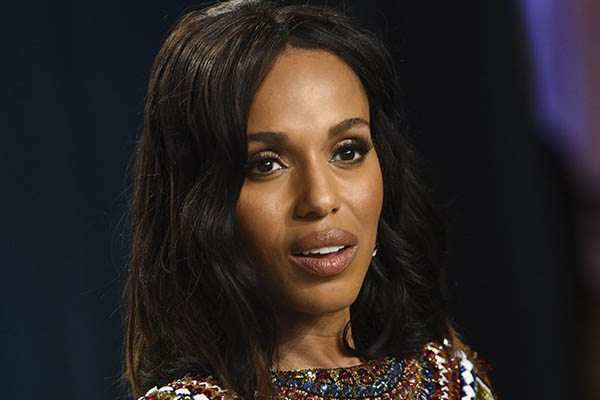 Little Fires Everywhere star Kerry Washington hosted a yoga session on Instagram following George Floyd's death, and made a donation to Black Visions Collective and the Louisville Community Bail Fund for every person who joined. She wrote: "Today I waoke up tahnking god for my ability to breathe. Even in the heartache. And in the anger. And in the fear. We breathe if we can. And we must breathe." She added that the class would breathe collectively for Ahmaud Arbery, Breonna Taylor, George Floyd and Tony McDale.
Oprah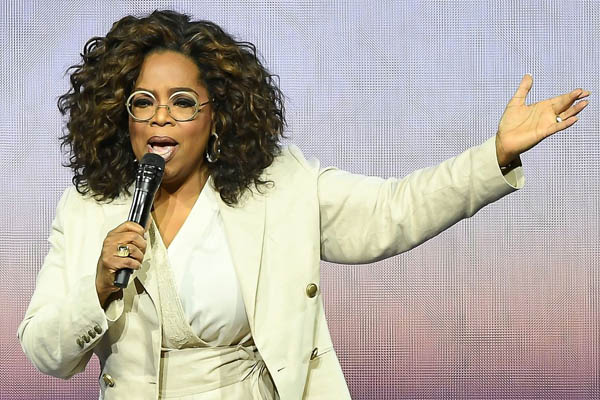 Oprah shared a heartfelt statement in the aftermath of George Floyd's death. Taking to Instagram, the chat show host wrote: "I've been trying to process what can be said or heard in this moment. I haven't been able to get the image of the knee on his neck out of my head. It's there every morning when I rise and when I go through the ordinary duties of the day. While pouring coffee, lacing my shoes, and taking a breath, I think: He doesn't get to do this.
"And now the video from the other angle of two other officers pinning him down. My heart sinks even deeper. His family and friends say he was a gentle giant. His death has now shown us he had a giant soul. If the largeness of a soul is determined by its sphere of influence, George Floyd is a Mighty soul. #GeorgeFloyd: We speak your name. But this time we will not let your name be just a hashtag. Your spirit is lifted by the cries of all of us who call for justice in your name!"