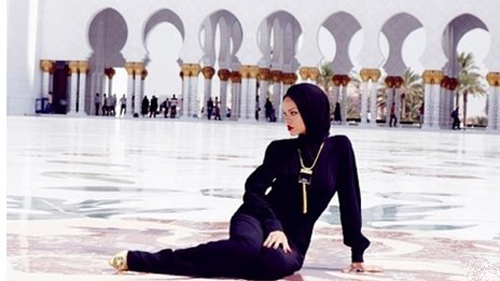 She was kicked out of the Sheikh Zayed Grand Mosque in Abu Dhabi after posing for photographs, which "did not comply with the terms and conditions" of the place of worship, and without obtaining permission.
A statement from the Sheik Zayed Grand Mosque, published today in local Abu Dhabi newspapers said: "In the event of behaviour that violates the moral codes of access to the mosque, or other visit regulations – such as taking inappropriate pictures, posing in ways that are improper in the context of sacred place, talking loudly, or eating – the violators are directed in a polite manner that reflects the civilisational and tolerant attributes of Islam.
"Here, the Centre refers to a recent incident, involving a singer who came for a private visit to the mosque, at a gate that is not reserved for visitors, without prior coordination with the Centre's management and without identifying herself."
The 25-year-old singer posted a number of snapshots on her Instagram account, which saw her dressed head-to-toe in black with bright red lips and matching nails, but fans have since hit out at the star for her "disrespectful" actions.
Indah Karmela wrote: "I love @Rihanna but then posing so seductively in front of the mosque is so disrespectful!! (sic)".
While supporter Mila Iggy added: "I don't see how Rihanna posing adjacent to a mosque in Abu Dhabi is disrespectful. If anything she's showing respect by supporting the hijab. (sic)". – femalefirst