Jack Brooksbank, Princess Eugenie's husband, is apparently looking for a new job after being photographed on a boat with his arm around bikini-clad models.
The photographs of Jack getting up close with the young females for a marketing event of the sun-drenched Italian island of Capri raised more than a few eyebrows. One of the gorgeous females was topless at one point, which caused a bit of a stir.
Erica Pelosini, an Italian model, later apologized for 'embarrassing' his wife Princess Eugenie with her inappropriate actions. She recounted how she opted to remove her top after it became wet so she could dry it, something she now regrets.
Jack's presence on the boat was completely professional, as he is a brand ambassador for Casamigos tequila, which was sponsoring a charity event on the Mediterranean island. The Duchess of York, his mother-in-law, has backed him, saying he was 'just doing his job'. Fergie said after the pictures appeared,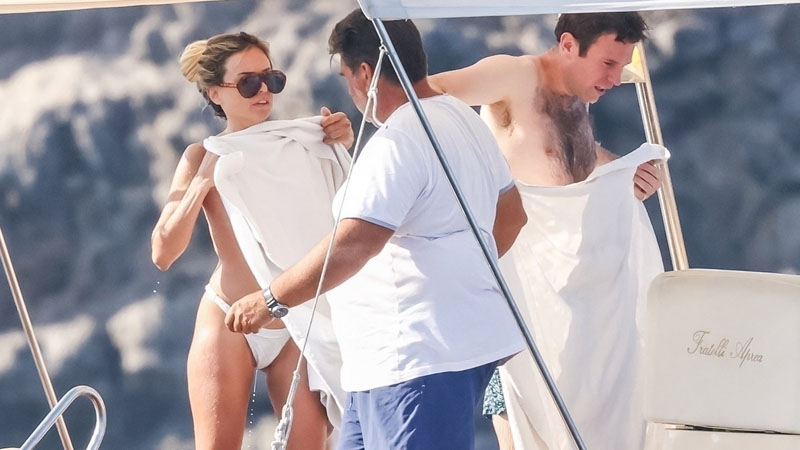 'Jack is a man of such integrity,' 'I call him James Bond, actually. He's a great father, a fabulous husband and he's never in front of the house; he always likes to be at the back.' However, according to Mail Online, Jack is planning to join his father's company and take on a more conventional role.
His father, George Brooksbank, recently left Pangaea Land and Property Limited, and the 35-year-old is being hired as a director there. The 72-year-old, who was diagnosed with COVID last year, quietly stepped down in June.
As it happens, William Legge, 10th Earl of Dartmouth, is a partner in the firm, and his grandmother was the romantic novelist Dame Barbara Cartland. 'Now that his father has retired, it's time for Jack to take over and to take on a more serious role to support his family,' a source told Mail Online.
Jack and Princess Eugenie, along with August, their six-month-old son, live in Frogmore Cottage in Windsor, where Prince Harry and Meghan used to live, and have always had a lively social life with friends like Hollywood star Demi Moore and singer Ellie Goulding.
In accordance with the report of MSN, Eugenie recently called him the 'ultimate father to our boy'. She remarked while sharing a series of cute Father's Day photos that illustrate how involved Jack is with his children.