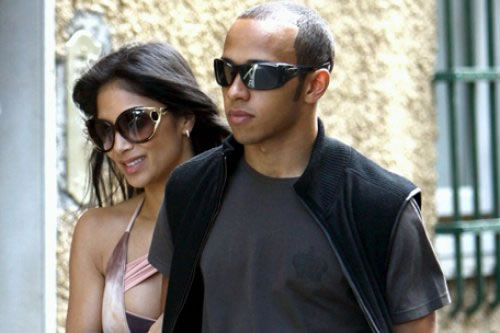 Nicole Scherzinger and Lewis Hamilton are desperate to get back together. The loved up couple had called time on their five-year relationship last month due to their hectic work schedules but they now plan to meet in a bid to find a way to make their union work when they are so busy with their globe-trotting careers.
A source said: "They are planning to meet and work out how on earth they can maintain a relationship with their lifestyles. "They both know this is the final chance to make it work. "Even though they spend so much time apart in different countries because of their work commitments, they were constantly on the phone and text messaging."
Nicole is currently based in the UK working on 'The X Factor', and has found the last month away from the Formula One ace incredibly difficult, so is keen to find a way to get their relationship back on track. The source also told The Sun newspaper: "She always felt complete with him in her life. That's why she's found the last month virtually impossible.
"Some days she was so upset it was a real battle for her to even get out of bed and go to work at 'The X Factor' auditions. "She's been distraught but is very good at hiding her real feelings in public. After all, this is the man she still hopes to marry one day. "This might be Lewis' homeland but he's hardly ever here and the reality is that Nicole has felt very alone.
"She loves his family but she's not close enough to his friends to call them her own. "While Nicole's team say the couple are still officially broken up, both are desperate to resolve the situation." Last week, Lewis dedicated his win in the Hungarian Grand Prix last week to the 'Poison' hitmaker, though he could not bring himself to say her name.
He said: "It feels a little bit odd without that someone here, but I would say now that this is one of those races you want to dedicate to that someone."
Via: – Femalefirst