Mickey Rourke ditches dishevelled look for smart dress shirt and vest on The Tonight Show Starring Jimmy Fallon. Mickey Rourke got all dressed up on Tuesday for his appearance on The Tonight Show Starring Jimmy Fallon. The 61-year-old actor typically favours funky, colourful outfits that show his muscular build but opted for a more conservative look for the show, which is filmed in New York.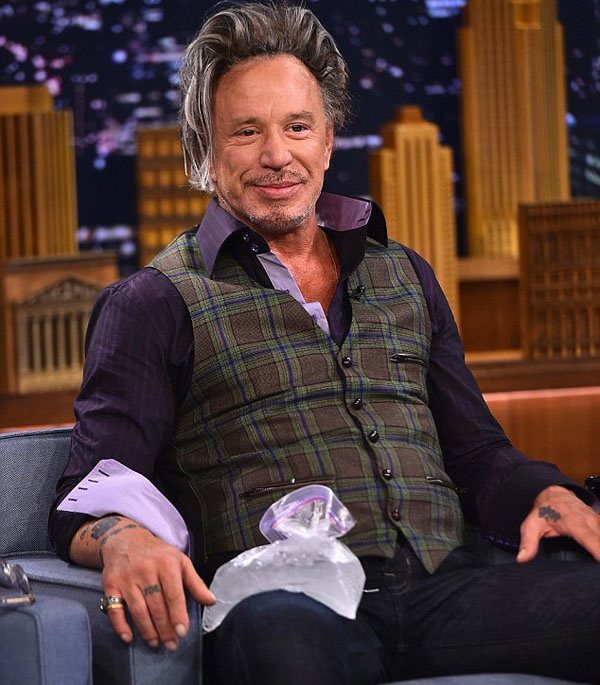 The Wrestler star wore a long-sleeved purple dress shirt along with a green and purple plaid vest for his visit with Jimmy. He also had on a pair of black jeans and was sitting in a chair with an icepack on his right leg. Mickey sported a light layer of salt-and-pepper facial stubble and had his grey-streaked hair styled up and away from his face. The Oscar-nominated actor was in Russia on Monday where he joined hundreds of people at Moscow's up-scale department store GUM where he grabbed a T-shirt with the image of controversial President Vladimir Putin.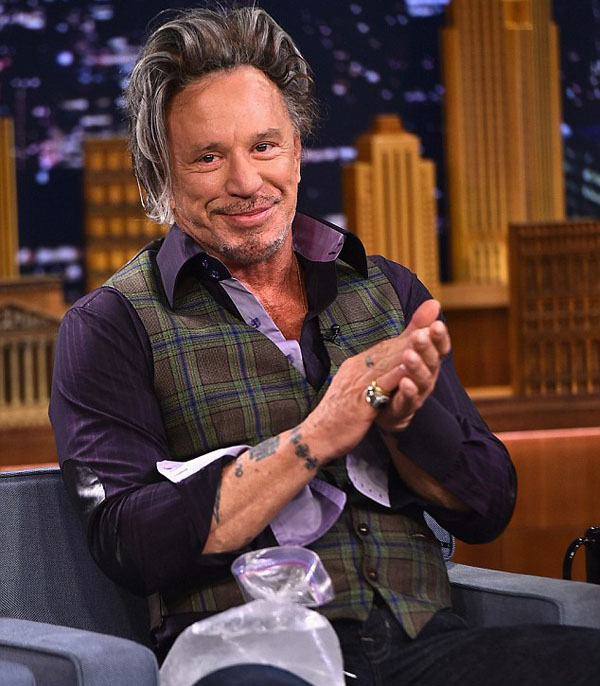 'I like this guy,' the Moscow Times reported Mickey said of the Russian leader, citing local news agency Interfax. After the shopping trip, the Iron Man 2 and Nine 1/2 Weeks star headed off to Luzhniki where he and boxing coach Amilcar Medina da Silva held an open boxing training session. Mickey was promoting his new movie Sin City: A Dame To Kill For scheduled for release on August 22.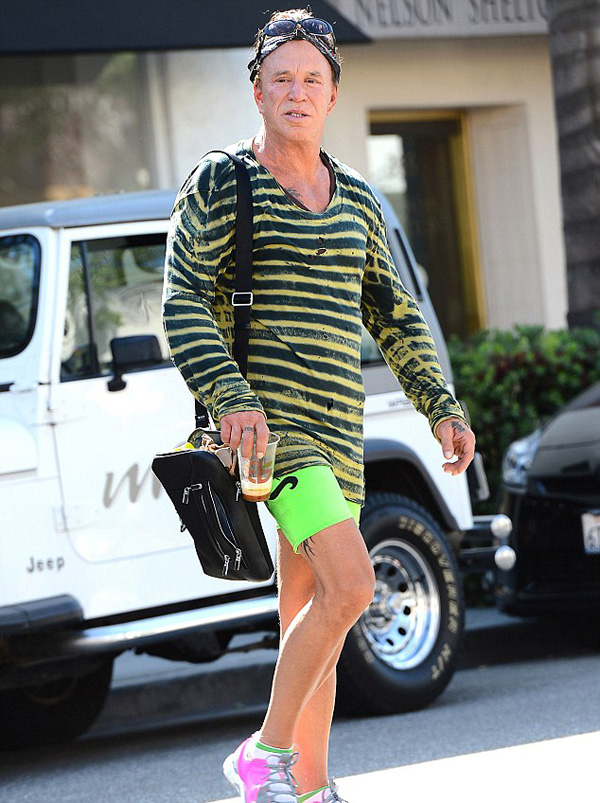 The sequel directed by Robert Rodriguez and Frank Miller also stars Jessica Alba, Josh Brolin, Rosario Dawson, Joseph Gordon-Levitt, Ray Liotta, Jeremy Piven and Bruce Willis. Mickey's Hollywood career reached its peak in 1986 when he won the leading male role in the erotic drama 9 1/2 Weeks opposite Kim Basinger and he also received critical acclaim in the 1987 movie Barfly that featured a script by Charles Bukowski. His career had ebbed until Mickey landed a meaty part with Sin City in 2005 and a few years later earned his Oscar nomination for his role in 2008's The Wrestler.