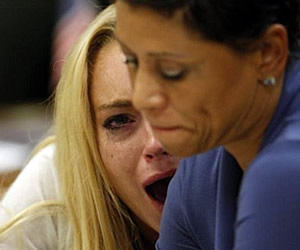 Lindsay Lohan has lost her legal battle against Pitbull. The actress sued the Cuban/American hitmaker in 2011 for a line in his song 'Give Me Everything' – in which he joked he was "Lindsay Lohan Loses Court Case Against Pitbull" – claiming he had no right to use her name and seeking financial compensation, but a court has now ruled in his favour.
A New York federal judge ruled on Thursday (21.02.13) that Pitbull's song, also featuring Ne-Yo and Afrojack, was protected by the US First Amendment, which covers freedom of speech and creative expression. Pitbull's lawyer, Marcos Jimenez, told media: "This will further solidify the rights of artists to express themselves in song. He felt it was very important to address this head on to protect his right and the rights of other artist. He decided to fight this."
Senior District Judge Denis R. Hurley also fined Lindsay's attorney, Stephanie Ovadia, $1,500 for sanctionable plagiarism and false representation after Marcos claimed last March she had lifted her arguments from online sources. 'Liz & Dick' star Lindsay has a long history of run-ins with the law and has been jailed several times for charges including driving under the influence (DUI) and cocaine possession.
Losing the case will be a financial blow to the flame-haired star, who is currently crippled with tax debt and has most recently being accused of destroying a $1,750 designer dress she borrowed.