George Ridgway, 31, a lifelong fan of the fictional film archaeologist and explorer Indiana Jones, found 748 Roman and Iron Age gold and silver coins in Ipswich in 2019.
He was "stunned" by the finding.
The British Museum in London is still valuing the hoard.
Mr. Ridgway, a butcher from Ashbocking in Suffolk, became obsessed with Harrison Ford's film character Indiana Jones when he was a baby.
He dressed up as "Indy" as a child and still does on occasion, complete with a fedora and whip.
He was "passionate" both about Indiana Jones and metal detecting – "and I still am", he said.
According to BBC News, while following Roman roads on Google Earth in September 2019, he came across an unusual crop marking in a Suffolk field.
"I found two Roman brooches, then a Julius Caesar silver denarius dating from 46-47BC," he said.
"After about two hours, I had found 180 coins – I was stunned, really."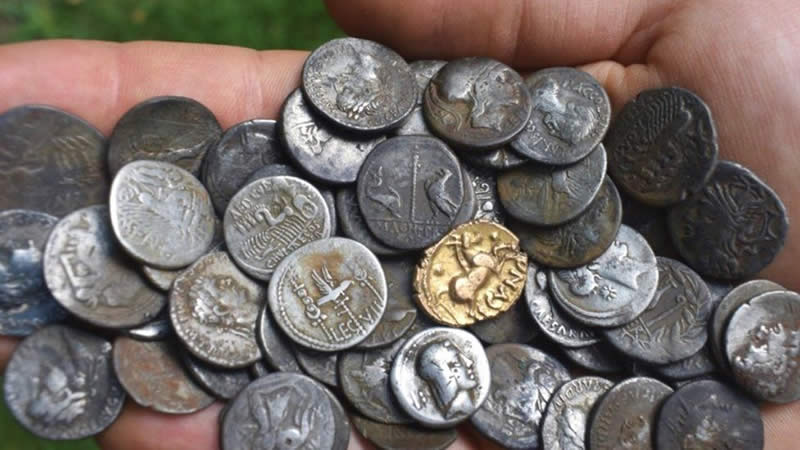 He then found parts of a broken pot and other coins, which he believes were buried together as a single stash.
"My dad slept at the site for the first two nights to protect it," Mr. Ridgway said.
Working with archaeologists, it took roughly three months to find the remainder – a total of 748 coins – and Mr. Ridgway said he had seen more since.
He added that his childhood dream of becoming a real-life Indiana Jones appeared to be coming true.
"I wanted to be like him – something resonated with me from a very early age – locating mystic relics – he's such an iconic figure."
Mr. Ridgway thinks there is evidence of a previously unknown Roman settlement at the Suffolk site, which he hopes to investigate further with county archaeologists.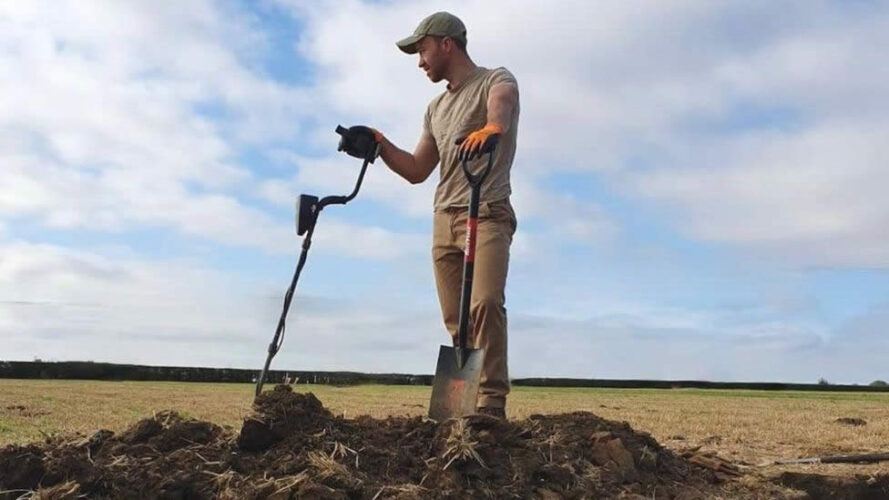 He stated that his hoard was declared priceless by the Suffolk coroner last year and that the items are currently being examined and valued at the British Museum.
Dr. Eleanor Ghey, the British Museum's curator of Iron Age and Roman coin hoards, said: "I would say that it is the currently the largest precious metal hoard found in Britain that dates from the reign of Claudius I (AD41-54).
"It is unusual because it combines Iron Age coins of Cunobelin (who ruled in the North Thames area and had a power base at Colchester) with Roman coinage.
"Most other mixed hoards found in East Anglia usually combine Roman coins with the local East Anglian Iron Age coins from Norfolk and Suffolk (which are associated with the Iceni, the tribe of Boudicca)."
A gold coin of Claudius dated soon before the Roman conquest of Britain in AD43 stands out among the hoard, she said.
"Roman gold coins of this period are rarely found."
While the hoard's modern-day value is yet to be determined – and the money will be shared between Mr. Ridgway and the Suffolk landowner – Dr. Ghey said: "In terms of its ancient value, it would equate to over two years' pay for a Roman legionary soldier."
Mr. Ridgway called her compliments "awesome and amazing," but stressed that he did it for "the joy of history-hunting" rather than a monetary benefit. The hoard is expected to go on permanent display at Ipswich Museum.
This article originally appeared on BBC and has been updated.