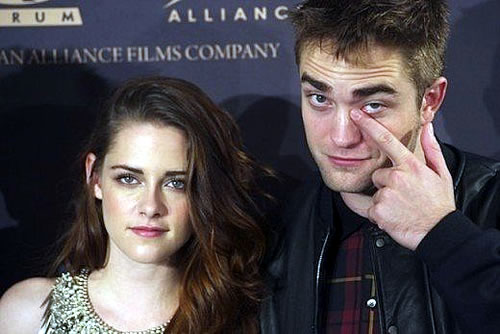 Kristen Stewart and Robert Pattinson have called it quits…for now. A source tells E! News the Twilight stars broke up Saturday, after more than three years of dating. Although those close to the couple believe this will be just a temporary split, the source said K. Stew is "heartbroken" and "so sad" over the break-up. "They are going to stay living at Kristen's house because of the dogs," the source continued. "It's not fully over or he would have moved out."
After proving they could make it through a rough patch after Kristen cheated on R.Patz with Snow White and the Huntsman director Rupert Sanders, the couple looked like they were back on for good, doing everything from celebrating Kristen's 23rd birthday to attending Coachella and spending time together in New York, where Kristen attended the Met Gala.
However, things started to get rocky for the on-screen, off-screen couple after that fashionable affair. Kristen was reportedly planning a birthday get together for Robert Pattinson, who quietly turned 27 last week, however, reports state the actor ditched those plans. Meanwhile, the pair hasn't been spotted together since they landed at LAX on May 8.
A source tells us the root of the couple's break-up is "priorities" and the pair had been trying to iron our their issues up until yesterday. They felt this was best for the time being. Robsten fans shouldn't get too down over the couple's split, though. "They will be back together in no time," the source said. – Eonline