She has been a familiar face in film since her starring role in Interview With A Vampire at the age of 12. And 20 years later Kirsten Dunst still has the power to wow, as she proved when she attended the premiere of her latest film The Two Faces Of January at the Curzon Mayfair on Tuesday evening.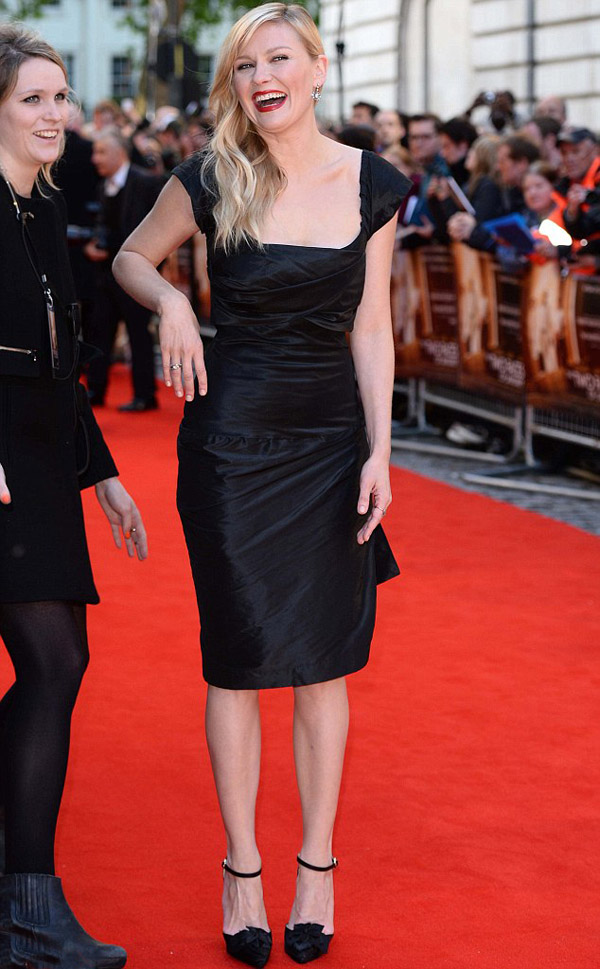 The 32-year-old, who plays Colette McFarland in the thriller, oozed Hollywood glamour for the occasion wearing a fitted satin black dress with ruched detailing. Her long blonde hair was styled to one side of her neck and in loose waves, while she added a dash of bright red lipstick. Proving a hit on the red carpet she stopped to sign a number of autographs – showing off her slender figure in the process, which is the result of her regular work outs. Kristen was joined on the red carpet by her co-star Daisy Bevan, who looked stunning in an elegant blue crochet dress.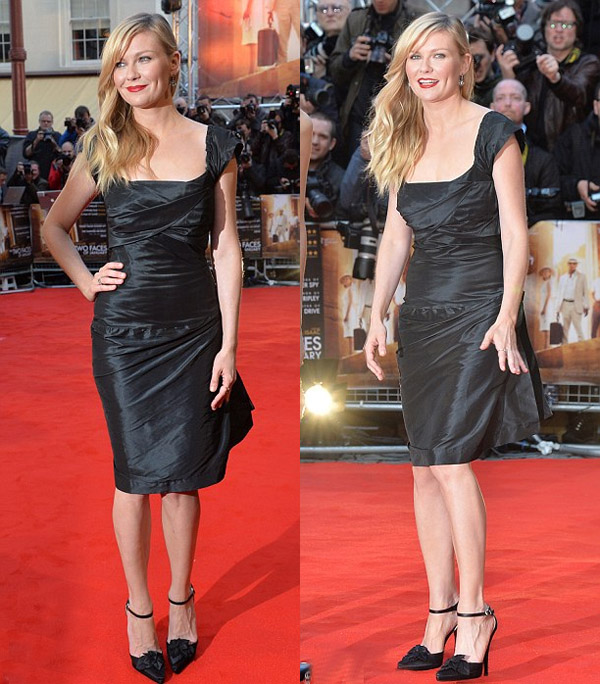 Daisy Bevan who is from a famous acting family – the Redgraves – brought along her father Tim as a date and he couldn't a have looked prouder. Speaking on the red carpet, Kirsten Dunst opened up about her co-star Viggo Mortensen, saying: 'Viggo is a gorgeous man, so it wasn't that difficult to have chemistry with Viggo. He's really funny, which a lot of people wouldn't expect, and we had a really good time together.' Oscar Isaac, 35, who also stars in the film agreed: '[Viggo's] such a goofball, that's what I was most excited about, he's very funny and just likes having a good time.'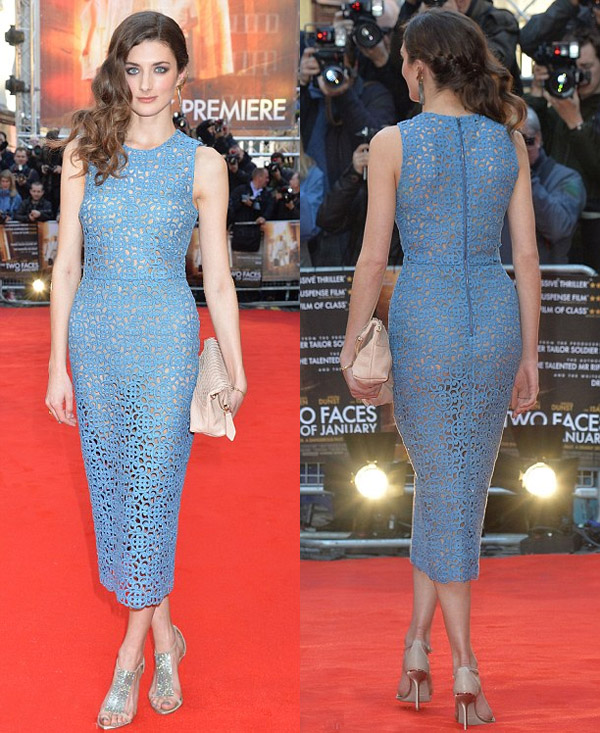 Mortensen, 55, explained why he's often seen in brooding roles despite his jokey reputation: 'I don't know, it's just habit, I like these characters to have secrets. 'Also it's what you're offered, no matter how well known you are you can only say yes if someone's invited you. Since I haven't shown that I'm someone who works in comedy, I'm not going to be offered those kinds of roles.' Oscar added he had a great time making the film. 'It was the three of us in these incredibly exotic locations having a good time,'he said. 'That's why I jumped at the chance because it was really great people in places I'd never been to, so it felt like a paid vacation sometimes.' Kirsten Dunst said of filming in Greece: 'It was great because if we had a day off we'd go swimming in the sea and the weather was perfect.'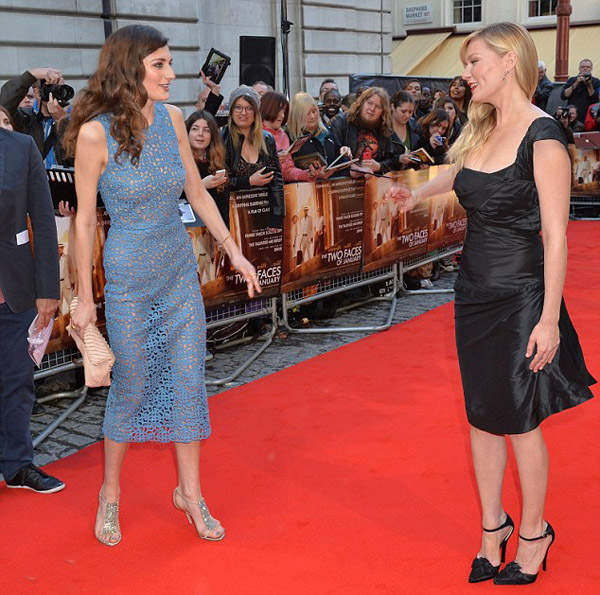 Their red carpet foray comes just hours after they attended a even to promote their new film at London's Corinthia Hotel. On The Road actress Kirsten Dunst unveiled an elegant look in black for the occassion, which she teamed with nude shoes to elongate her legs, while Daisy Bevan – whose mother is Joely Richardson – opted for a sheer dress with bright orange embroidery. Talking about the thriller set in the 1960s, Daisy Bevan told ITV's Lorraine show on Tuesday that she was 'born' to act. Daisy is the fourth generation of Redgraves to enter the family trade. She studied for two years at The Lee Strasberg Theatre And Film Institute in New York, and last year completed work on her first feature film, playing a wealthy ingénue who falls into the clutches of a small-time conman in the movie.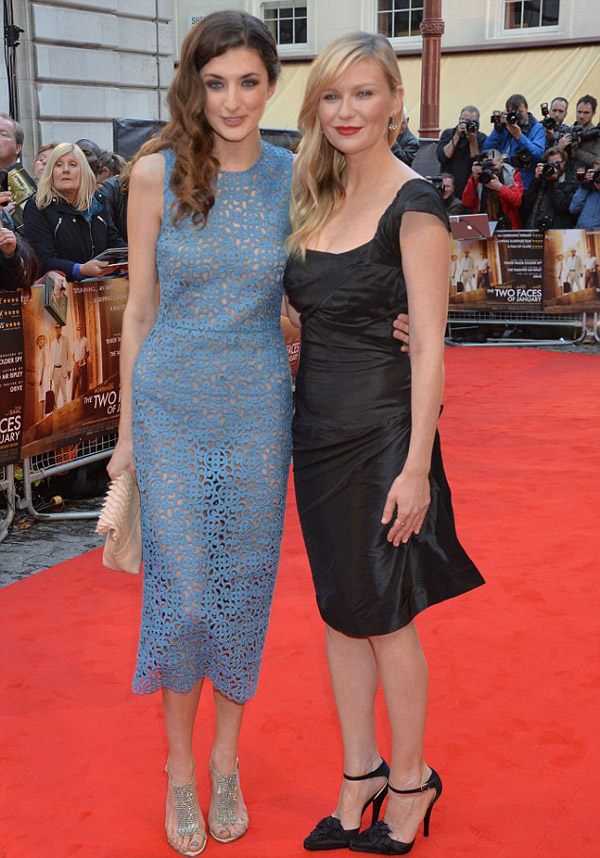 Based on a Patricia Highsmith psychological thriller, Daisy Bevan is seen mostly starring alongside chancer Rydal, a Yale  graduate who scrapes a living swindling American tourists in Athens. Rydal is played by Oscar Isaac, who had roles in Drive and The Bourne Legacy. The Two Faces Of January involves Rydal's dangerous friendship with an American couple, Chester and Colette MacFarland. He's a whisky-swilling swindler played by Viggo Mortensen; she's his younger, classier wife — a part pursued by Kirsten Dunst. -dailymail