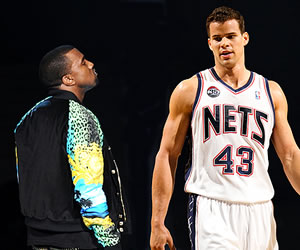 Kanye West is furious with Kris Humphries. The rapper – whose pregnant girlfriend Kim Kardashian is Kris' estranged wife – is reportedly angry that the basketball player skipped an important divorce settlement court date in Los Angeles and feels he is disrespecting Kim.
A source told media: "It irks everybody involved to know how shiesty [Kris] is. Kanye doesn't care that it makes him look bad in court for not showing up, he just wants this over and so does Kim! "It's just sad this is taking so long, and this dude is going to try to drag this on forever." Kim, 32 and 28-year-old Kris have been fighting about how to legally end their 72-day marriage since November 2011.
Kim wants a divorce, while Kris wants an annulment on the grounds of "fraud" as he claims she married him to boost the ratings of her show, 'Keeping Up With The Kardashians'. According to her Los Angeles Superior Court filing, Kim expects to provide "reasons why the parties' marriage should be dissolved and not annulled" and show "that she did not defraud (Kris) into marrying her." Kim is also preparing to testify about their pre-nuptial agreement and has listed several financial advisers as witnesses.
Kim, who was denied a request to move to the trial to May 3 so she could attend an engagement in New York, was previously reported to have refused to answer some questions at her divorce deposition last month. – Femalefirst