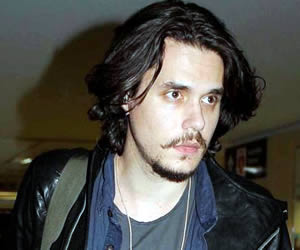 John Mayer says his "dreams have come true twice." The 35-year-old singer – who recently split from his girlfriend of seven months Katy Perry – was forced to use an iPad to communicate and worried he would never sing again after being "terrorised" for two years by throat problems that left him with no voice.
He told Billboard.com: "I thought I'd just take a pill and it would go away, but the problem got worse and worse and grew and grew. "I probably had contiguously three, maybe four months of not saying a word. The endurance was tough for me, but I started a new life." Doctors initially tried to treat the problem by injecting his vocal cords with a huge amount of Botox, which left them paralysed and him unable to speak for weeks.
He said: "I was forced to type on my iPad to communicate anything. It wasn't liberating. Is breaking your leg liberating? No. All complexity is gone when you don't have a choice. "I spent so long being terrorised, I had all but shut down the fantasy of playing music again-just so I could, you know, survive." But John was relieved when the condition slowly started to improve when he took some time off and meant he didn't need to undergo surgery.
He said: "It's hard to believe that I'm healed, but just to make sure, I keep going back every two weeks for a look, and it's the same – if not better. "The greatest gift I now have in my life is the opportunity to play again, which is also the opportunity to dream again. My dreams were in escrow, but when I found out these things in my throat had receded, the most exciting thing for me was having a second chance at a new life. My dreams have come true twice. That's really cool." – Femalefirst