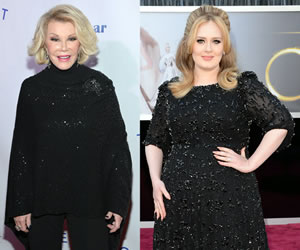 Joan Rivers has slammed Adele, saying she is "chubby" and needs to "lose weight". The TV personality – who initially branded the 24-year-old singer fat when she won an Academy Award for her James Bond theme 'Skyfall' – hit out at the 'Rolling in the Deep' singer by accusing her of being overweight, and joked she has taken an advertisement out on Adele's butt to say sorry for her initial jibes.
Speaking in a HuffPost Live interview, she said: "It's not mean. She's a chubby lady who's very, very rich, and she should just calm down – or lose weight! She wanted an apology, so I took an ad out on her ass. I said, 'You are not fat.' And then I had room for a lot of other ads. "Adele is beautiful and successful and has what, $100 million? Let's face reality: she's fat!"
The 79-year-old star initially hit out at the mother-of-one after meeting her at the Oscars in February. Speaking on 'The Late Show with David Letterman', she said: "What's her song? Rolling in the Deep … fried chicken!" Joan had another poultry-inspired dig at Adele in her latest interview, saying sales of the meat will always be good because retailers can always sell it to the 'Someone Like You' hitmaker.
She added: "Chicken is good because you can sell it to Adele – you'll always have a market." It's not the first time Joan has hit out at another star's weight. In 2011, she said Christina Aguilera looked like a "pig" and accused the blonde star of thinking about food when she forgot some of the lyrics to the US National Anthem at the Super Bowl.- Femalefirst