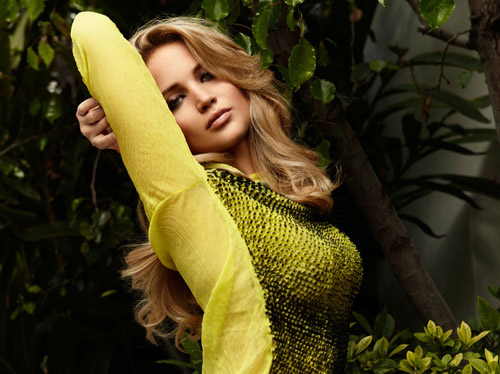 Jennifer Lawrence is 'always very nervous'. The Oscar winning 'American Hustle' star suffers from anxiety about how she is perceived which she says help stop her from ever getting a big head.

She told E! news: 'I'm always just very nervous. I never feel like, 'I've got this.' I'm always very nervous and aware of how quickly people can hate you and that scares me.  'I never feel like I'm on top of it or I know what I'm doing… so, no. I never get a big head, I just get more and more anxious.'
'American Hustle' is set in 1970s New York and New Jersey and the cast wore costumes typical of the time, which meant going bra-less for Jennifer Lawrence, which she was not altogether pleased about. She told MTV: 'I normally wear bras. I wouldn't say that it's ever exciting to see yourself without a bra in a dress that's three sizes too small for you.
It was… freeing.' Jennifer's co-star in the movie, Christian Bale, said he enjoyed working with her, as she is feisty and also because she swears a lot. He said: 'She loves nothing more than a good fight. She's up for it. She's a tough cookie. And she talks like a sailor, so I enjoy those conversations with her. -Arabia.msn