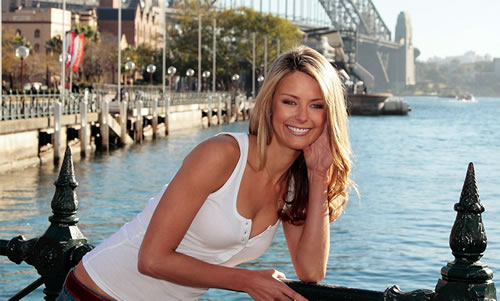 A beauty queen from down under, Jennifer Hawkins, was born on December 23, 1983 in Holmes Ville, Australia. This smoking hot beauty has attracted millions throughout the world from her stunning looks and mouthwatering body.  In her early days Hawkins was a cheerleader for the Newcastle Knights-rug by league team and the Hunter Pirates basketball team and also worked as a model. This babe knew exactly what she wanted to do in her life, therefore after high school she instead of carrying studies started a modeling.
This is when Hawkins won the recognition throughout the world. During her modeling career she was provided an opportunity to represent Australia in Miss Universe competition, the highest award in the world. It was year 2004 and first day of month June when Hawkins started her campaign to become a universal beauty queen. Although prior to competition Hawkins was not considered the favorite but she surprised everyone went on winning the competition for herself and her country. She became second ever Australian to win the contest and 2nd ever from Oceania since Lorraine Downes of New Zealand held the title in 1983. After winning the prestigious miss universe competition Jennifer Hawkins became a celebrity, equally famous in all most all the countries of the world. By every passing day, her pool of fans and her demand in market increased
TV Career:
After winning a miss universe competition Jennifer Hawkins was blessed with numerous opportunities. She appeared on TV on seven networks during Melbourne cup in 2004.Later; she signed a contract network's travel show, The Great Outdoors and appeared as guest presenter. That show enabled Jennifer Hawkins to see the whole world. Jennifer Hawkins was appointed as one of the judges for the Australia's Make Me a Supermodel, which debuted on the Seven Network in August 2008. During 2010 Hawkins switched her network and signed a contract with nine networks and lately, she was named as the host for the upcoming series of Australia's Next Top Model
Relationship:
Jennifer Hawkins is engaged to Jake Wall, a male model. Couple met each other prior to Hawkins successful attempt at miss universe competition. It's not sure if couples have intention to get married or just want to live as they are, we have to wait, for us to know that.
Contracts:
After winning miss universe competition Hawkins were offered numerous deals. She signed a contract with Lux in 2005, as its face of Australia and New Zealand. One of the most lucrative deal Hawkins ever signed was a deal to become the fourth Australian face of Cover girl makeup in 2006. In same year Hawkins signed a 3 year deal with Lovable Australia lingerie as its Australian "face" and Hawkins was offered a position of brand ambassador for Grand Waterfront, a residential development in Hong Kong, which she accepted. In the following year Hawkins signed a deal with Australian Department Store Myerworth $4million (AUD).