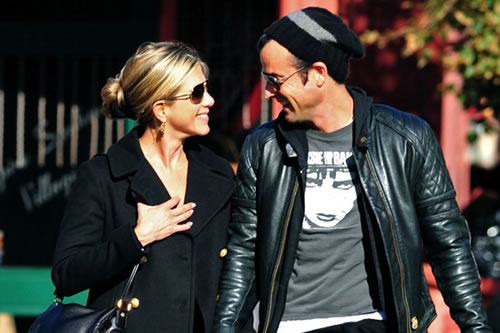 Busy lovebirds Jennifer Aniston and Justin Theroux have had a breakthrough on their wedding plans – as Justin has agreed to tie the knot in California. The high-profile couple were forced to postpone their wedding due to their hectic work schedules, as MailOnline revealed- and have been looking at dates in early December. The couple were pictured together this week for the first time since it was revealed they had put their wedding on hold, looking in love as ever in sunny Los Angeles.
A source close to Justin, 41, said this was a 'breakthrough' as the 'main source of uncertainty has been removed'. The source said: 'Jen and Justin have gone back and forth on where to marry and whether to have a destination wedding so many times. 'Jen has always made it clear LA was her first choice and Justin has compromised and agreed to marry in California. 'Justin's reservations with LA are well known and he wanted to marry on the East Coast where his friends and much of his family is based, where he proposed to Jen and where he feels most comfortable.'
It had been reported that Justin and Jen, 44, had also disagreed over where to live as Justin is desperate to return to his hometown of New York – while Jennifer feels at home in Los Angeles, where the couple have recently finished renovations on their new $21 million Bel Air estate. And the source added: 'Contrary to popular opinion Jen does not hate New York- she studied there growing up but it's now become too intense for her.
'She has made it clear how much it would mean to her to get married near where they now live and where she is happiest and feels most settled. 'They won't at their recently renovated Bel Air mansion but will likely use their home to host an intimate reception.' Justin is now said to be 'resigned' to a Hollywood wedding – albeit on a smaller scale than most. The couple have now moved into 'overdrive' on finalising their wedding plans. – Dailymail