Harry Styles 'broke' Greg James' nose at the BBC Music Awards last night! – Well kind of  It was all for a comedy skit that the Radio DJ had put together for the show. 
[contentblock id=1 img=adsense.png]
In the short two-minute clip, Greg was jokingly seen giving a host of celebrities including ex-girlfriend Ellie Goulding – and introduction to the health and safety rules at Birmingham's Genting Arena ahead of the awards ceremony.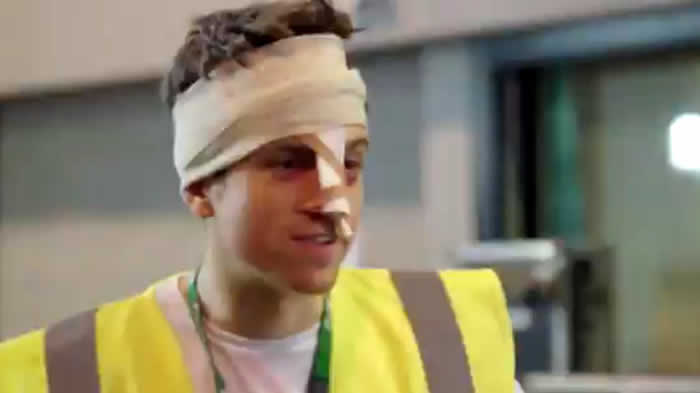 However when it came to giving One Direction the low down, he told the lads to be careful around hot food before throwing a hot potato their way. Playing along, the lads then threw the potato at each other before Harry pretended to accidentally throw it at a show runner who just happened to be carrying a hot cup of tea that ended spilling all over Greg. 
[contentblock id=2 img=adsense.png]
One thing led to another and the DJ was next seen on screen covered in bandage with a broken nose. He then took to the stage and insisted on teaching Niall Horan how to stage dive, lunging himself into the auditorium. Later on he was seen being driven around in a wheelchair covered in even more bandages. Luckily it was only a sketch!