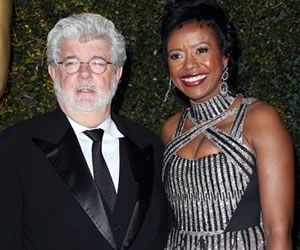 Having recently sold his company Lucasfilm to Disney, George Lucas freed up some time to be a good husband as he just became engaged to girlfriend Mellody Hobson.
The "Star Wars" Director and the DreamWorks Animation chairperson have dated since 2006. However, it is George's second time around. He was previously married to film editor Marcia Lou Griffin.
This will be his 43-year-old fiancée's first marriage. She may be best known for the show she created and hosted on ABC in 2009 called "Unbroke: What You Need to Know About Money" which featured celebs like the Jonas Brothers, Oscar the Grouch, and Samuel L. Jackson talking about economics.
Currently there are no details on where and when the longtime couple intend to be married.