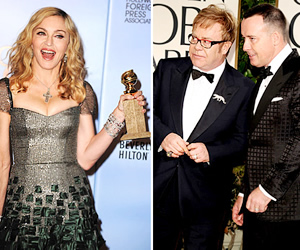 Elton John's husband David Furnish finds it quite light hearted to have a beautiful criticism over someone so as he did on Golden Globe Awards night.
David Furnish vilified Madonna when Elton John just lost out to her for the Golden Globe Award for Best Original Song. After the ceremony he tweeted, "Madonna. Best song??? F*** off!!!!"
"Madonna winning Best Original Song truly shows how these awards have nothing to do with merit", he says.
David Furnish also talked about Madonna's claims over Lady Gaga's song saying, "Her criticism of Gaga shows how desperate she really is."