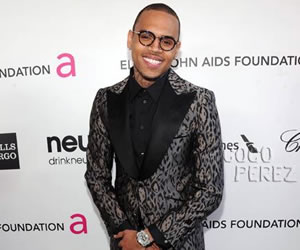 Chris Brown was the "life of the party" at Sir Elton John's AIDS Foundation 21st annual Academy Awards viewing party on Sunday (24.02.13). The 'Don't Wake Me Up' singer – who is still on probation for beating up his on/off girlfriend Rihanna in 2009 – was greeted enthusiastically by guests at the party at The City of West Hollywood Park where he happily posed for fans and chatted to everyone.
A source told media: "Chris was bombarded by fans wanting to take pictures and he was more than happy to oblige. "He was loving it and saying yes to everybody. He told a tall blonde woman who asked for a photo, 'You're gorgeous.'" "Chris was smiling and extremely kind with everyone. He looked really cheerful and flattered to have so many guests "He was the life of the party. He looked so happy to be getting such positive attention from guests."
Rihanna, 25 – who had a romantic vacation in Hawaii with Chris last week – recently insisted the 23-year-old singer is not the "monster" people think. She explained: "There's so many reasons why I ever reconsidered having him back in my life. He's not the monster everybody thinks. He's a good person … Of course everybody has their opinion about him, because of what he's done.
"That will always be there, but he made a mistake and he's paid his dues. He's paid so much. And I know that's not a place he would ever want to go back to. "And sometimes people need support and encouragement, instead of ridicule and criticism and bashing." – Femalefirst