Justin Bieber and Kourtney Kardashian have been laying themselves bare this holiday season. The rumoured couple – who have reportedly been dating since August – both shared stripped down photos of themselves on social media. 
[contentblock id=1 img=adsense.png]
On Monday the singer, 21, shared a photo of his naked chest in a selfie. The same day, the 36-year-old reality star posted a flashback photo from at least seven years ago where she was in a sexy bathing suit next to sister Khloe.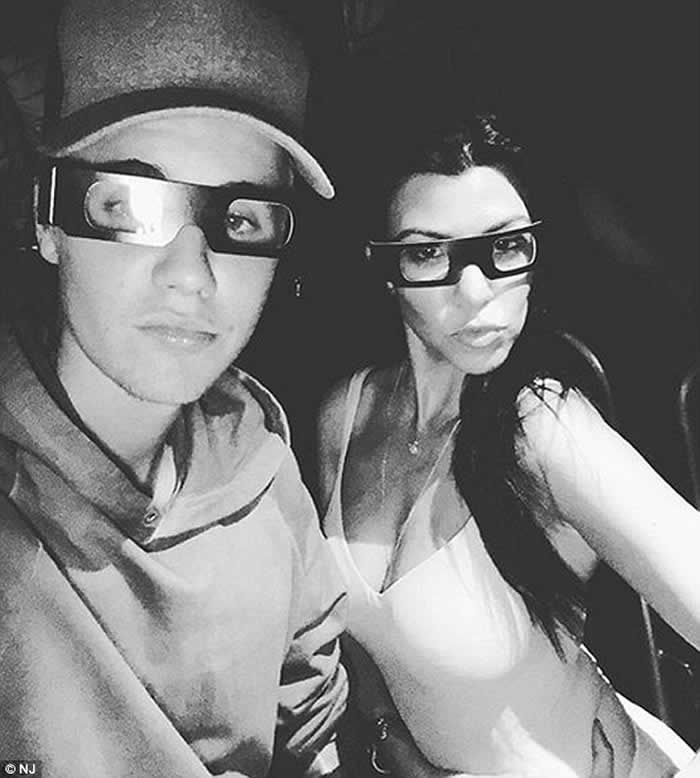 The mother of three also was seen seen makeup-free in a livestream video titled SisterSunday shared to kimkardashianwest.com. In a video including her whole family, Kourtney promoted their new apps as she wrote: 'Sister Sunday! Don't forget to download our apps so you can view our live-streams.'  The Keeping Up With the Kardashians star shared a mashup of her sisters, along with Caitlyn Jenner and momager Kris. The next day the 21-year-old Sorry singer showed off his bare chest as he promoted his snapchat: '
Follow me… my username is rickthesizzler.'  Justin's post showed off his pecs and numerous tattoos, while his blonde mane was combed to one side. Although rumoured to be dating the pair may have recently hit a snag in their budding romance. Bieber shared a picture on Instagram of him hanging out with pal Hailey Baldwin, 19, at the beach with some fans on Sunday. 
[contentblock id=2 img=adsense.png]
'I've known him since I was so young – since I was like 13 – and we've just been good friends over the years,' Hailey told E! News last year. 'We have just stayed close and there's nothing more to it than that.'  And it may not only be Kourtney that Bieber is in hot water with, as the city of San Francisco is also heated over the singer's latest actions. He spray painted graffiti over the city's sidewalks to promote his new album, Purpose and the City Attorney wants Justin's label to make it stop.