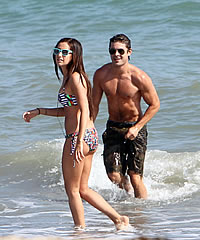 Ravishing Ashley Tisdale and good looking Zac Efron though spend many cozy moments together but duo claim to be friends only.
It is hard to admit perhaps that how a hot babe and handsome hunk can be friends only even after hangout on beach. Last weekend Ashley Tisdale and Zac Efron were spotted in bath suits making merry in Malibu that added fuel to their heating relationship.
But soon after the pictures got leaked, Ashley Tisdale tweeted and said, "Don't believe all pictures. People r gonna come up with stuff to say bc it sells! I had such a great birthday party with my friends, Family, and BOYFRIEND Scott. I will not let stupid rumors ruin all the fun we had! Xoxo"
Anyhow, what can one say looking their hand holding pics!