Arnold Schwarzenegger's son Joseph Baena perfected his bodybuilding posing in a clip he posted to Instagram.
'Teaching the boys a lesson in posing,' the second-generation bodybuilder, 23, said in the caption of the clip. 'Side chest or the 3/4 pose will always be my favorites. What are yours?'
Joseph was clad in black shorts in a parking lot in Southern California in the clip.
The Pepperdine University graduate shared another clip on Instagram Stories from a home gym setting in which he lifted weights alongside fellow athlete Max Murciano, who he tagged into the post.
Baena is Schwarzenegger's son with his one-time housekeeper-turned-mistress Mildred Baena.
In October, the Kindergarten Cop star took to social media praising Joseph for his dedication to fitness in a post wishing him a happy birthday.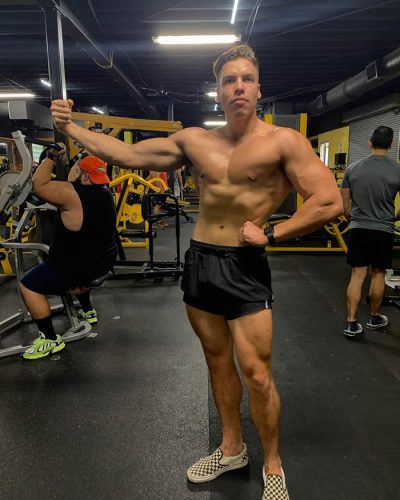 'Happy birthday @projoe2! I love watching your progress with your training, your work, and in every part of your life,' he wrote. 'I can't wait to see what's coming next. I love you!'
The ex-California governor, 73, is also dad to sons Patrick, 27, and Christopher, 23, and daughters Christina, 29, and Katherine Schwarzenegger Pratt, 31, all of whom he shares with ex-wife Maria Shriver, 65.
Schwarzenegger and Baena, prior to the lockdown, had regular workouts at Gold's Gym in Venice Beach, California, where Arnold's star rose as a seven-time Mr. Olympia ahead of his Hollywood fortune.
They have since been seen on bicycling outings in Los Angeles, as Schwarzenegger has with his other kids amid the pandemic lockdown.