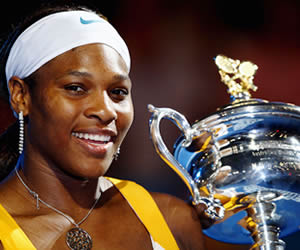 Serena Williams was born on September 26, 1981 in Saginaw, Michigan. She is a professional American tennis player. The Women's Tennis Association has ranked her World No. 1 in singles on five separate occasions.
She became the World No. 1 for the first time on July 8, 2002, and regained this ranking for the fifth time on November 2, 2009. She is the only female player to have won over $40 million in prize money.
Serena Williams has won four Olympic gold medals, one in women's singles and three in women's doubles. On 4 August 2012, she became the second player after Steffi Graf to win a career Golden Grand Slam after winning the gold medal at the 2012 Summer Olympics in Wimbledon, and the first player in history, male or female, to win the Career Golden Grand Slam in both singles and doubles.