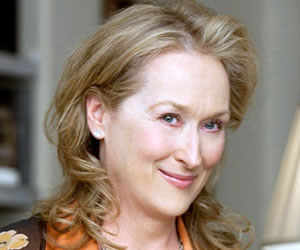 We wish a very happy birthday to our heart favorite 63 years old smarty Meryl Streep. May you get more blessings both in life and career on this auspicious day of your birth.
Meryl Streep is a worldwide popular American actress who got fame for her talent in theatre, television, and film. she was born on June 22, 1949 in Summit, New Jersey, U.S.
She made her professional stage debut in 1971 by playing in The Playboy of Seville and her screen debut in 1977 with film Deadliest Season. Since then she has been appearing in bundle of films and getting nominated for her performances.
Meryl Streep has won a number of awards and nominations in her life which are 3 Academy Awards out of 17 nominations, 8 Golden Globe out of 26 nominations, 2 Screen Actors Guild Awards, 2Emmy Awards, five New York Film Critics Circle Awards, a Cannes Film Festival  and Australian Film Institute Award, AFI Life Achievement Award,
Kennedy Center Honor, and lot more. She was awarded the Honorary Golden Bear at the 62nd Berlin International Film Festival on February 14, 2012.
Some of Meryl Streep hit films include Sophie's Choice, Kramer vs. Kramer, Adaptation., The Devil Wears Prada, Doubt, and The Iron Lady.
Its time to celebrate birthday and a life time success. Cheers!