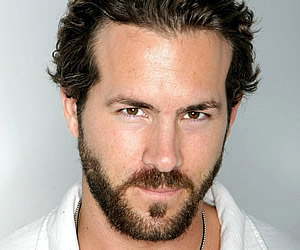 Ryan Reynolds a Canadian film and television actor. Reynolds is known for playing the roles of Michael Bergen on ABC's sitcom Two Guys and a Girl, as well as Marvel Comics characters Hannibal King in Blade: Trinity.
Reynolds' career began in 1990 when he starred as "Billy" in the Canadian-produced teen soap Hillside, distributed in the United States by Nickelodeon as Fifteen. He has also appeared in the second season finale of the television series Scrubs. In 2007, Reynolds guest-starred as Brendan's friend Hams in the episode "Douchebag in the City" of the TBS sitcom My Boys.
He also starred in the Spanish thriller Buried, which screened at the Sundance film festival. Ryan Reynolds portrayed superhero Hal Jordan/Green Lantern in Warner Bros.' film Green Lantern, released June 17, 2011 in 3D; this made him one of the few actors to headline in movies based on both Marvel and DC characters.
In October 2011, it was reported that Ryan Reynolds had begun dating his co-star Blake Lively.In June 2012, Reynolds and Blake Lively purchased a cottage in Bedford, New York. The couple married on September 9, 2012, at Boone Hall Plantation in Mount Pleasant, South Carolina.