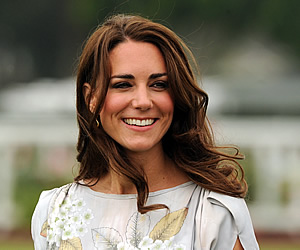 Kate Middleton, Duchess of Cambridge is the wife of Prince William, Duke of Cambridge and as for the Duke of Cambridge, he is second in line to the throne, after his father. The throne covers 16 Commonwealth realms and the Duchess is expected to become queen consort.
Kate Middleton had her early life in Chapel Row, a village near Newbury, Berkshire, England. During her stay in Scotland at the University of St Andrews, she studied art history. It was here at the university that she met Prince William of Wales in 2001. The relationship continued without break culminating in the announcement of their engagement on 16 November 2010. Catherine managed to impact the british fashion seen, so much so that the effect was termed the "Kate Middleton effect", and in 2012, she was selected as one of The 100 Most Influential People in the World by Time.
Catherine Elizabeth Middleton was born at Royal Berkshire Hospital in Reading on 9 January 1982 and christened at St Andrew's Bradfield, Berkshire, on 20 June 1982.:32 She is the eldest of three children born to Carole (née Goldsmith), a former flight attendant, and Michael Middleton, who also worked as a flight attendant prior to becoming a flight dispatcher for British Airways. Her parents were married on 21 June 1980 at the Parish Church of Dorney, Buckinghamshire. In 1987, they founded and became owners of Party Pieces, a mail order company that sells party supplies and decorations. Party Pieces is a private company with an estimated worth of £30 million; Middleton has a younger sister, Pippa, and a younger brother, James Middleton. The family has complained about press harassment of Pippa and Carole since Middleton's engagement.
Middleton's paternal ancestors were from Leeds, West Yorkshire. Her paternal great-grandmother Olive was a member of the Lupton family, who were active for generations in Leeds in commercial and municipal work. Royal geneaologist and Burke's Peerage editor William Bortrick has acknowledged an aristocratic branch on her father Michael's family tree courtesy of his grandmother, Olive Middleton (nee Lupton) and her second cousin Lady Bullock (nee Barbara Lupton). Middleton's maternal ancestors, the Harrisons, were working-class labourers and miners from Sunderland and County Durham.
In November 2006, Kate Middleton accepted a position as an accessory buyer with the clothing chain Jigsaw. She also worked part-time until January 2011 as a catalogue photographer, webpage designer and marketing officer for her parents' firm Party Pieces. Despite this, at one point she was nicknamed "Waity Katie" by the media for her apparent lack of work ethic and seeming lack of desire to work, in preference for awaiting a wedding proposal.
In 2008, it was reported that she had quit her job at Jigsaw to become a professional photographer, intending to take private classes with photographer Mario Testino, who had taken several well-known photographs of Diana, Princess of Wales, and her sons. Testino later denied that Middleton was going to be working for him.
Middleton was number one on Vanity Fair's annual Best Dressed lists in 2010, 2011 and in 2012 also its cover star. She was awarded the accolade of 'Best Celebrity Smile' in May 2012 after placing first in a poll by Bupa.
On 3 December 2012, St James' Palace announced that the Duchess was pregnant with her first child and had been admitted to the private King Edward VII's Hospital Sister Agnes in London, suffering from hyperemesis gravidarum where she remained for three days.
Kate Middleton was formally introduced to public life on 24 February 2011, two months before the wedding, when she and Prince William attended a lifeboat-naming ceremony in Trearddur, Anglesey, in North Wales. A day later they appeared in St Andrews to launch the university's 600th anniversary celebrations. On 16 February 2011, Clarence House announced that the Duke and Duchess's first royal tour of Canada would take place in July 2011. In May 2011, shortly after the wedding, Clarence House announced that the Duke and Duchess would extend their tour to visit California. This was to be the Duchess of Cambridge's first visit to the United States.
The Duke and Duchess were announced as Ambassadors for the 2012 Summer Olympics in London, alongside Prince Harry. The Duchess attend both the Opening and Closing Ceremonies of the Olympics. On 29 August 2012, the Duchess attended the Paralympic Opening Ceremony accompanied by her husband, the Duke of Cambridge. As part of her role, the Duchess attended numerous sporting events throughout the games.
The princess continues to make a big impact on the British scene.